Without a doubt, the right camera lens is important to your photography journey. There's a joke that no matter how many lenses a photographer has, they will always want more. I can't tell you how many times I've said to my husband, "If I just get xyz lens, I'll be truly satisfied with my collection!" Truthfully, I probably wouldn't feel complete. We are constantly learning and bettering ourselves at  photography, and not only that, technology is improving.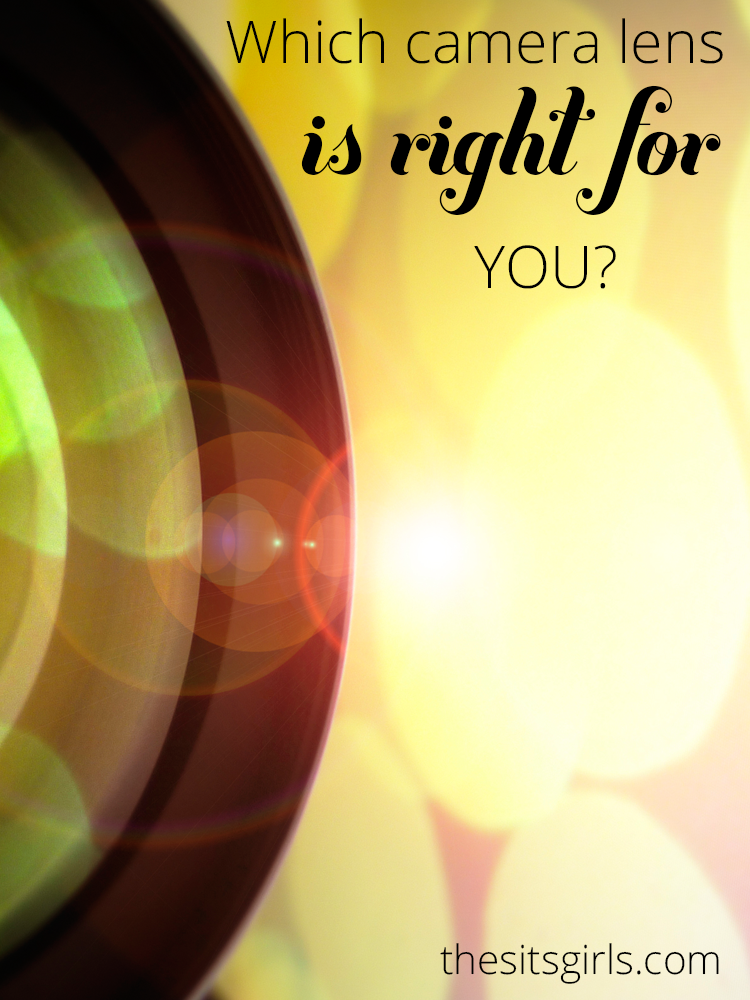 Which Camera Lens Is Right For You?
I've researched lenses a lot, and I still struggle with choosing the right ones for my professional collection. A camera lens can be a very personal choice! There's no one-size-fits-all lens, or one magical lens that will do everything you want! (Trust me, I have looked). There are no right or wrong answers – there are just the goals we seek. Not only are these personal decisions, there are factors at hand.
A good camera body is certainly key, but it's more important to know exactly how to use the camera that you have. When you are serious about photography and you have a DSLR, it may be time to purchase lenses for your camera.
There are incredible lenses out there to help you capture your visions.
Thinking Beyond Your Kit Lens
Most camera bodies come bundled with kit lenses. What's a kit lens? Kit lenses are inexpensive, small and light lenses that act as "starter lenses" when getting started with DSLR photography. They are generally priced at the lowest end of the manufacturer's range, and are often within standard focal lengths, although these days, lenses can occasionally range from wide-angle to mid telephoto for versatility.
What is Focal Length?
Focal length is the distance between the center of the lens and its focus. Or more simply put, focal length determines how "zoomed in" your photos are. The higher the number, the more zoomed your lens will be when taking a photo. Even more simply put, focal length is the distance from the lens to the imaging sensor.
Am I Ready To Buy a Lens For My Camera?
Well that depends on what kind of camera you have! Many cameras aren't equipped with "interchangeable lenses." Point-and-shoot-cameras have fixed lenses, and while smartphones do have lenses available, they are not to be confused with DSLR lenses, which are much larger and more powerful on DSLR bodies.
Lenses can be prime lenses, which means a fixed focal length. To "zoom" in and out, would mean walking to and from your subjects. The advantage to prime lenses is sharpness. Zoom lenses are lenses in which you can zoom in or out right on your camera, without necessarily having to move. The advantage is versatility.
There are three major types of lenses, as well as many sub-categories and specialties:
Normal or standard lenses. These lenses are made to create pictures similar to the images you see with your eyes, and generally have a focal length of 50mm for a full frame camera, although cropped format DSLR cameras may require a smaller focal length. The normal/standard focal length range is 35-70mm. My favorite normal/standard lens is a 50mm 1.4. The nifty fifty is on my camera the majority of the time.
Wide or ultra wide-angle lenses have a focal length of around 35mm or less. Wide-angle lenses can take in a wider scene than is typical. Ultra wide-angle lenses can cause distortion, especially in faces when you're shooting too close. On my cropped format DSLR, I use a 10-22mm lens for real estate photography, as well as architect photography and landscapes.
Fisheye lenses have incredibly short focal lengths. They fit so much information into one image, that they distort the image and create an almost dizzying and strange illusion. They are fun lenses, but I don't personally use them.
Telephoto and super telephoto lenses are lenses with a focal length in excess of 70mm, or as some even say – ones that exceed 135mm. Telephoto lenses are good for focusing on specific details and distant subjects, and are often larger and heavier than wider lenses. Telephoto lenses are great for photographing subjects you can't or don't want to get close to – like sports, wildlife, or even portraits meant to show relative size or a sense of scale.
Another specialty lens is a macro lens. Macro lenses are capable of reproduction ratios greater than 1:1. These are great for extreme close-up photography, and can have focal lengths between 40-200mm. You might use one of these sharp lenses for newborn babies or wedding rings.
Consider Aperture When Choosing A Camera Lens
Aperture refers to the amount of light let you let into your camera when taking a photo. Lenses have maximum and minimum aperture sizes, which can actually limit the types of photos you can take with your DSLR.  So how wide of an aperture do you need for your lens? That has to do with the types of photos you plan to take!
For some broad guidelines, if you are shooting indoor action, you will want 2.0 or wider. If you are shooting indoors without a flash, you may need 2.8 or wider.  Generally, a 4.0 maximum aperture is good in medium to ambient lighting. A 5.6 maximum aperture requires good lighting or image stabilization, whether as a feature on the lens (IS) or if you use steady hands or tripods. If you are shooting landscapes with a tripod, you will likely use 8.0, 11.0 or even narrower apertures.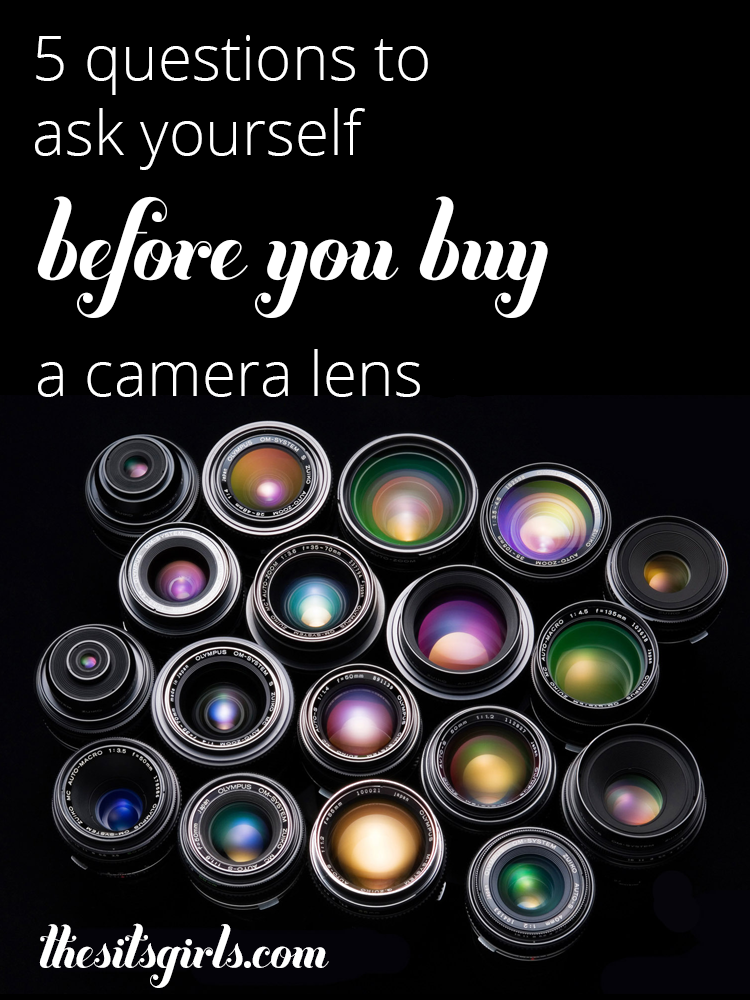 Five Questions To Ask Before You Buy A Camera Lens:
1. What kind of camera do you have? If you have a Canon or Nikon mount, you will generally stick with Canon or Nikon lenses, although there are affordable third party lenses for both kinds of camera bodies that have favorable reviews.
2. What primarily are you shooting? If it's portraits of your kids or street photography, you may want a 35mm, 50mm or 85mm prime lens. If you want a very versatile lens for travel, you can try an 18-200mm or a 55-250mm for landscapes and candids. If you are shooting real estate photography, you may look for something like a 10-22mm. You can use a 24-70 for landscapes and buildings, and for weddings and other events. It's a good all-around lens.
3. What's your budget? This is important because lenses range from about $100 to considerably more than that. I love my 50mm 1.4, but if I had a stricter budget, I'd buy the 50mm 1.8 and without budgetary concerns, I'd purchase the 50mm 1.2.
4. What's your skill set? This goes hand in hand with the budget question, but if you're looking to do photography professionally, you'll look into more powerful lenses.
5. What's your style, both of your photos and your shooting style? Do you want to create a wonderful bokeh effect, and you would prefer to be at a considerable distance from your subjects? Then a longer focal length with the 135mm or 70-200mm would be better for you.
Experts say that all lenses have a sweet spot – an exact aperture in which they work best, and for many people, it's an exact number. For me, it's about knowing how to use my lenses at all of their apertures and in all of their locations.
Good lenses are at the top of my wish list! Which ones interest you?