New to SITS? Welcome!! Go read this to get started.
Today's featured blogger is The End of The Rainbow: Life After Bankruptcy

Heather: What an inspirational lady! She's so uplifting and has retained a spirit of hope. It's encouraging to see her emerge from bankruptcy.
Tiffany: So many people are struggling through this same issue right now. I hope her blog can encourage those who might be in the throws of financial crisis.
SITS Girls Bloggy Boot Camp now has tickets available for the Phoenix and San Francisco events!
Want to subscribe to SITS and get an email each time we post? Just click here.
And, as always, when you see this: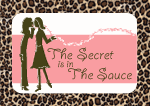 LEAVE A COMMENT.