New to SITS? Welcome!! Go read this to get started.
Today's featured blogger is 3 Boys + 1 Hubby = What's Next???

Heather: Let's hear it for the multiple mommies!! As for the part about them being boys. I am no help there.
Tiffany: I'm all about the boys, but three very small ones? I bow down to you, sister.
SITS Girls Bloggy Boot Camp now has tickets available for the Phoenix and San Francisco events!
Want to subscribe to SITS and get an email each time we post? Just click here.
And, as always, when you see this: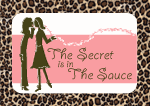 LEAVE A COMMENT.