New to SITS? Welcome!! Go read this to get started.
Please come check out the SITSmas details on Sunday. They're VERY, very important.
Today's featured blogger is Milk And Cuddles

Heather: I Iike her iPhone post about it's initial intimidation factor. How can something so small be so scary? And shall we discuss her cranberry and orange infused vodka recipe? SURE!!!
Tiffany: I'll discuss that cranberry vodka recipe with you. Do you know what rhymes with cranberry? Blackberry. Okay, so maybe my Blackberry was a little scary at first too. The smaller, the scarier I always say.
Want to subscribe to SITS and get an email each time we post? Just click here.
And, as always, when you see this: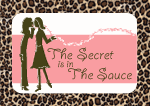 LEAVE A COMMENT.