New to SITS? Welcome!! Go read this to get started.
Today's featured blogger is Headaches, Hormones, & Hotflashes
Tiffany: I think the title of her blog could really apply to any age in a woman's life. That makes her multi-generational and I like that!
Heather: She just left out night sweats. WHAT is up with those anyway????
SITS Girls Bloggy Boot Camp now has tickets available for the Phoenix and San Francisco events!
Want to subscribe to SITS and get an email each time we post? Just click here.
And, as always, when you see this: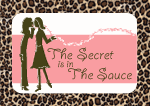 LEAVE A COMMENT.