This has been an incredibly tough week for many. Our hearts and minds go to Oklahoma City, to all who were affected by the tornado, and to everyone who has friends and family in the area.
We will forge ahead with the Sharefest this week, as it is about community. It is about uplifting each other, and being there as friends. And that is what is most needed in these trying times. If you wrote about your thoughts on what happened, or something else that will lift our spirits, we would love to read it.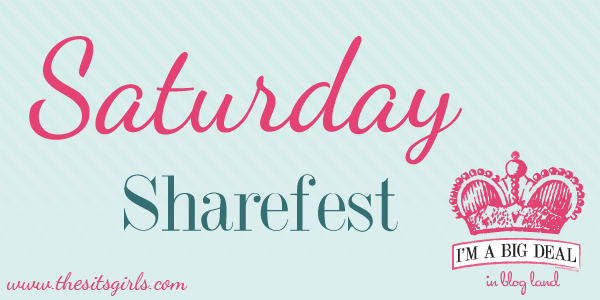 As always, there were a slew of amazing posts last week. Here are some highlights.
The ladies at A Dose of Reality really crack me up week after week with their series on Pinterest nightmares. This one about an egg rolling gadget, aptly named the Rollie EggMaster, was no exception.
I loved this post by Felicia at Familial Ramblings on why it pays to be friendly. In times such as these, it's always great to see a smiling face at your neighborhood coffee shop, at work, or on your commute.
Are you addicted to Pinterest? Diane over at Vintage Zest shares her favorite Pinners and bloggers with us, ranging from food blogs to sewing blogs.
If you've been featured in the weekly Sharefest post or have had your post Pinned to our Sharefest Pinterest board, you can grab a Featured button here!
How To Play Along with #SitsSharefest
When it comes to helping bloggers connect and grow their audience, you know we've got your back. Here's how to play along:
Sharefest Linky
Link up your post using our weekly Linky. This makes it easy for people to find your content AND for you to visit your fellow bloggers. Even a visit to one or two people ahead of you in the Linky can make all the difference in the world!
Sharefest is on Pinterest
We have a Pinterest board on The SITS Girls just for our Sharefest participants. Our community leads will be helping to pin content that really stand out, so be sure that your posts include a pinnable image!
#SitsSharefest Happens Each Week on Twitter
Finally, definitely don't forget our #SITSSharefest Twitter Party happening at 10:00 AM EST / 7:00 AM PST on Saturdays. It's a great way to get one of your posts some extra love on Twitter.
Hug your loved ones and have a beautiful weekend.