Decorating pumpkins for Halloween is one of my favorite activities of the season!  But, I get tired of the same old techniques done year after year.  This year I wanted to try something new and so I have! You will find several no carve pumpkin decorating ideas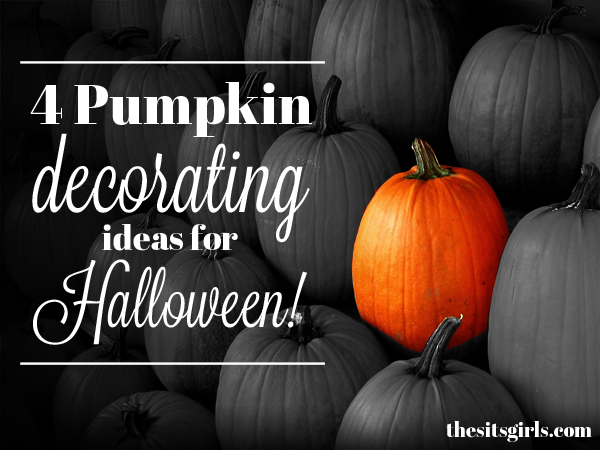 No Carve Pumpkin Decorating Ideas
Halloween isn't Halloween without a festive DIY decorated pumpkin!  A DIY decorated pumpkin is the perfect way to cap off the perfect Halloween front porch!
I've gathered 4 DIY decorated pumpkin ideas to add a little pizzazz to Halloween this year!  Try one or try them all! These pumpkin painting ideas will add a uniqueness to traditional pumpkin carving: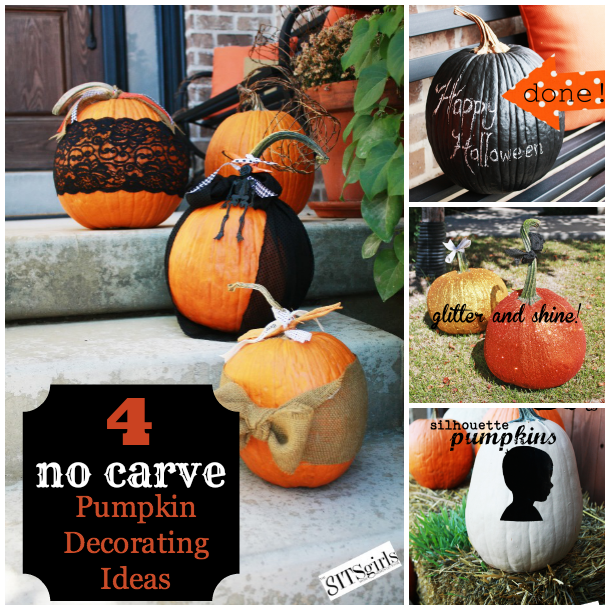 Pumpkin Painting Ideas
To complete our DIY decorated pumpkin roundup, I've included the 4th and final tutorial. Make your own chalkboard pumpkin!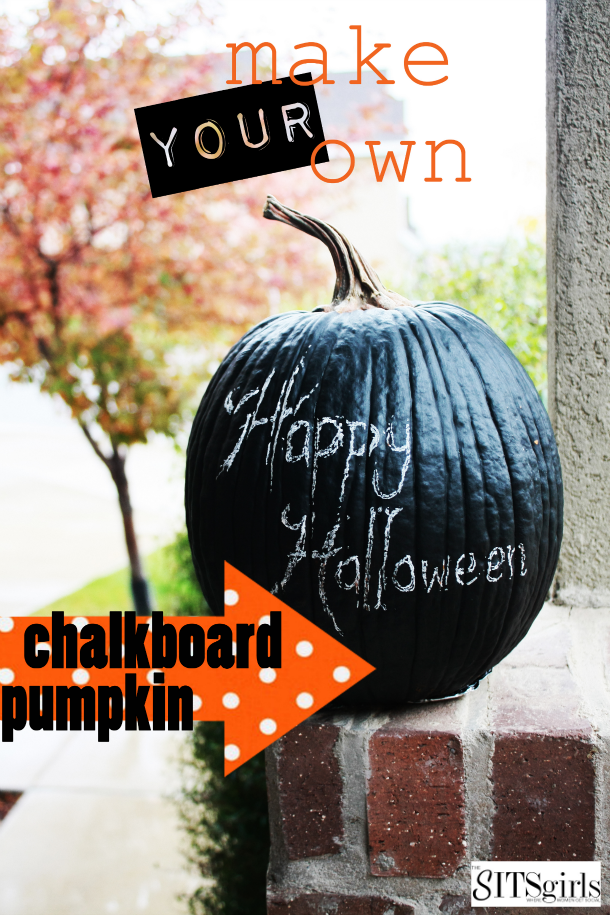 Making a chalkboard pumpkin is as easy as pie! To get this pumpkin painting tutorial started  you will need to gather a few supplies.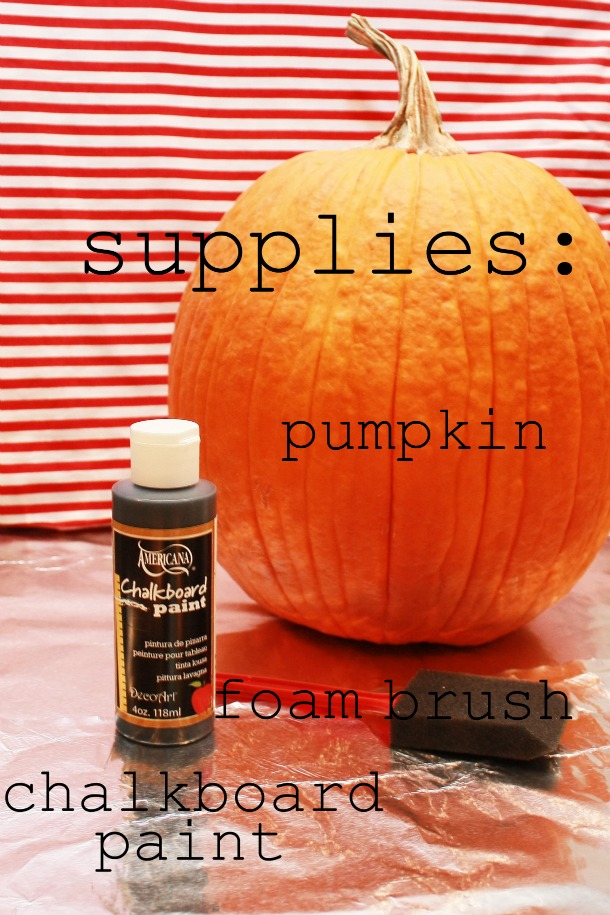 To begin, clean your pumpkin with a damp cloth and allow time to dry.  Give your chalkboard paint a good shake, and pour a workable amount into a bowl or container.  Protect your work surface from paint by covering with paper or foil.  
Using a foam brush, apply the chalkboard paint to the outside of your pumpkin.  Take care in all the cracks and bumps.  Allow first coat to dry, and then repeat the process again.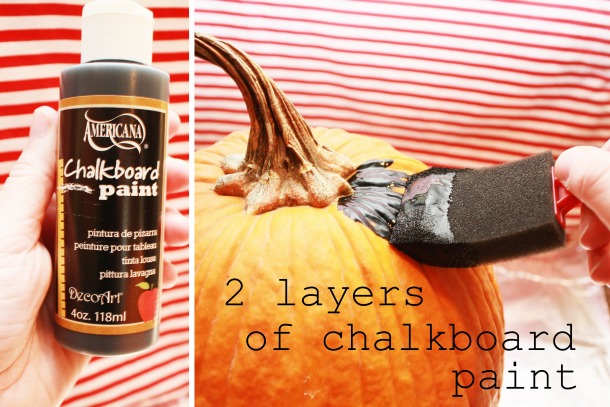 Allow plenty of time for your pumpkin to completely dry!  If you try to draw on your pumpkin too soon, the chalk will scrape off the paint and you will have to begin your process again!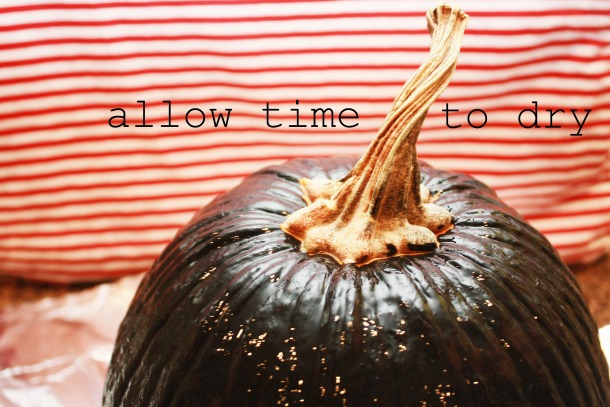 Once your chalkboard pumpkin is dry, draw a design or message using chalk on your pumpkin.  You can dress it up with a face, or express yourself with a cheerful Halloween message!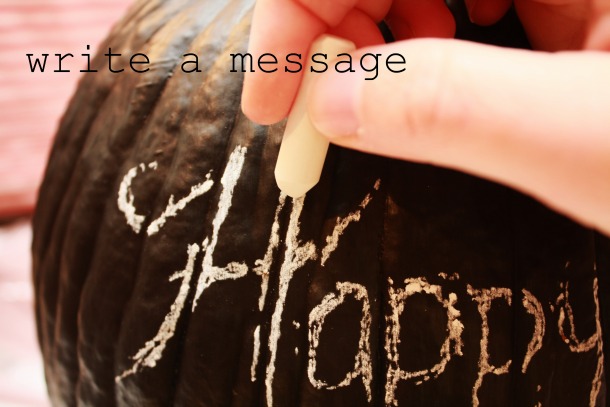 Once your design is complete, display your pumpkin and jazz up your space! 
A chalkboard pumpkin is the perfect way to add a bit of unique style to your Halloween décor! This no carve pumpkin decorating idea is a nice way to show off your creativity.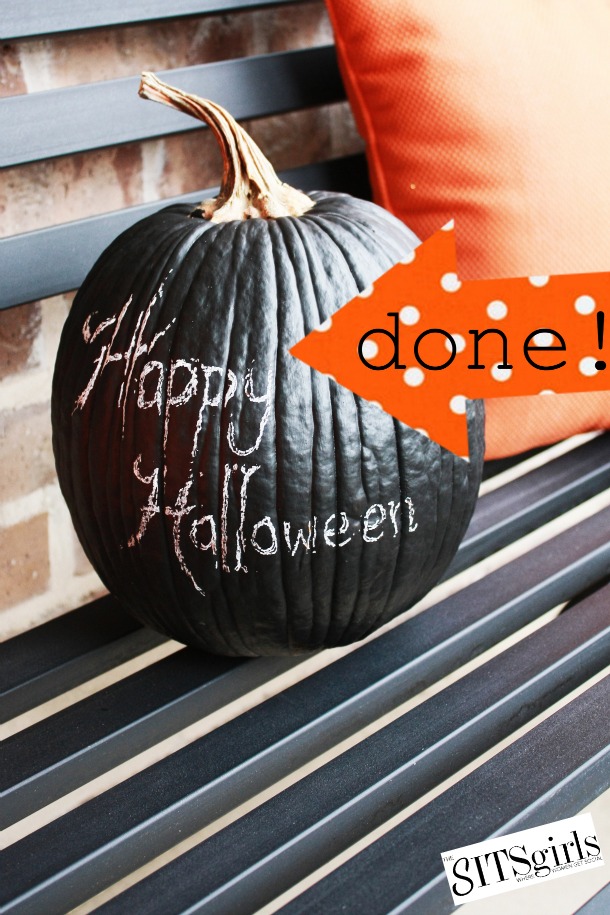 Happy Halloween!
More No Carve Pumpkin Decorating Ideas for Halloween
Looking for more Halloween fun? Then be sure to head over to our Halloween Pinterest board and check out the below links to find more no carve pumpkin decorating ideas for Halloween: