Who doesn't love Valentine crafts? Today, Lisa from Mumma's Corner shows us how to make a quick and easy homemade Valentine's Day card.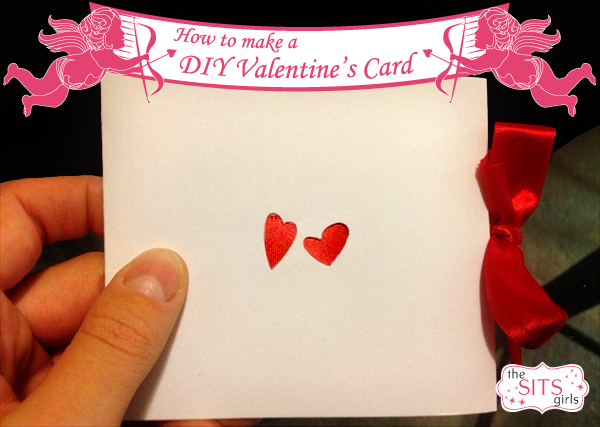 Before we begin, let me just point out that you can make your card any size you want. For sake of uniformity throughout the post I will keep my measurements to correlate to a smaller sized card, measuring 4" x 3 1/2 " with an (optional) photo insert measuring about 3" x 2 1/2".
Supplies You'll Need:
White card stock,
Exacto knife
Ruler or measuring tape
Heart hole-punch
5/8 " width red ribbon
3" x 2 1/2 " photo (optional)
Instructions:
Cut your white card stock into a long strip measuring 16" x 4".
With your ruler, measure 4" in from one side of the card stock and make a light pencil mark from the top to bottom.
Measure another 4" in from that mark and make another light pencil mark from top to bottom.
Measure another 4" in from that mark and make another light pencil mark from top to bottom. Your card stock should now have 4 equal sections.
In the middle of the second section, measure half way down at 1 3/4 " and make a mark.
Move your ruler over and measure another 1 3/4" down and make anther mark. (Make as many marks as you want hearts on the cover of your card).
With your heart hole-punch (or exacto knife if you don't have a heart hole punch), cut out a heart using the pencil marks as your center guide for the cut out.
Fold the card stock in half along the center pencil line.
On the far end of the card stock, measure exactly half way down at 1 3/4 " and make a mark with your pencil. Use your exacto knife to cut out a narrow (approximately 5/8" long) oblong cut-out through both sides of the card stock, using the pencil mark as your center point for the cut out.
Repeat step 9 along the center fold of the card stock.
Open the entire card stock and using your Exacto knife, make four 1" long diagonal slits (about 1" in from the corners) to hold the corners of the photograph. If you don't have a photograph or don't want to use a photograph, skip this step.
Erase any pencil lines/marks and fold in end sections to meet in the middle.
Insert photograph on the right and write a Valentine's Day message on the left hand side. If you didn't use a photograph, write your message on the right hand side.
Weave your red ribbon through the left slit, through the middle, and through the opposite end and tie the ends together in a bow to close the card.
Put in envelope (envelope must have larger dimensions than 4" x 3 1/2". The ones I have are 5" x 3 ¾" which fit perfectly). Seal with another heart cut out on the back and give to someone special

About the Author
Over the past two years, I completed law school, became an attorney, got engaged, moved to Chicago, got pregnant, had a baby, and got married. Having just turned 27 years old, I have come to realize how busy and fast life moves and how unbelievably amazing this time of my life is. I believe I have the most incredibly loving, smart, and selfless husband and the most beautiful, happy, baby on the face of this earth. This is a spot to read and learn about my life as a new wife and mother and to share the journeys, joys, ups and downs, and everything in between, here with me in Mumma's Corner. Also find me on Twitter @MummasCorner and Pinterest.