When you are new to blogging, there's a bit of a trial and error process that everyone goes through. Though you might look at experienced bloggers and think they have it all figured out, all of us make mistakes in the beginning! To prove it, we asked you to share your biggest blogging mistakes with us.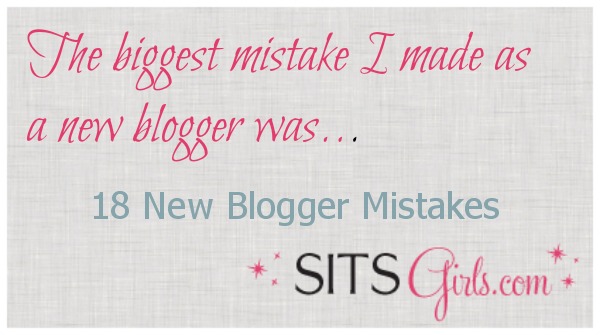 Set up mistakes
Choosing a name too quickly. -Stephanie
Giving my family the link. -Megan
Thinking I'd never want to blog about anything else, and naming my blog Our Crazy Boys. It's only me writing, not my husband and I. I'd rather have named it something more generic. -Becca
Creating a twitter handle that was too long. -Erin
The name I was using wasn't really "me." I'm happy with it now. -Lydia
I thought up a name that totally fit me and I loved, but didn't research it. A year later I found out there were 2 other blogs by the same name! So, probably research. I wish I would have known more when I started, and still wish I knew more. -Missy
But everyone else is doing it
Trying to do things that just weren't me to get ahead in blogging, boy was I an amateur. -A Peaceful Crib
For me it was trying to scheduled deadlines that I am just not able to meet at this time. I decided to stop doing such a strict schedule since my blog is still relatively small and go with the flow and what works for the time I have available and when I can exclusively blog and nothing else, then I will work on being a bit more strict. -Mara
Not knowing what my voice was, and trying to be like all the other mommy bloggers out there. -Dee
Trying to say what I thought people wanted to hear instead of being myself, not posting enough. I am sure I am still making so many mistakes but learning as I go! -Tabitha
I thought I should blog about it
Venting about family. BAD idea. Bad. -Jacki
I first started four years ago with a blog about my son. I thought that blogging strictly about motherhood was to way to go for me. I soon stopped because it just wasn't motivating for me. I started again this year with a health focused blog which is much more my pace. Find something you truly care about and write about that. -Natural Fit and Frugal
Not making it anonymous. I ended up losing my job over it! -Amy
Thinking that blogging gave me the right to say whatever I wanted. I, for a time, forgot that basic manners still applied. -Rhonda
How does this blogging thing work?
Relying on my friends to read my blog. -Tamunoibifiri
Cute and clever titles. No clue of SEO then. -Mariah
I know I made many mistakes. One that comes to mind is not scheduling my post. Glad I figured out that you could actually do that. -Busy Momi Bee
Ouch, my eyes!
Long, wordy posts with no line breaks, no photos and no stylizing at all. Just big ugly blocks of text. -Crystal
WALLS of Text. Taking a while to find my style. Being scared to be too deep, or let the real me out. Yes – agree with others that I hoped for more support from friends and family. I got discouraged when I didn't get it and it almost stopped me from writing. ALMOST. -Masala Chica
And even after you've been blogging for a while, don't feel bad if you make mistakes- or as I like to call it "trying something and deciding it doesn't work."
What was the biggest mistake you made when you first started blogging?