Now that you know about the rule of thirds and one way to make your images more interesting, let's talk about some things that may distract your viewers while looking at your photos.
Like I said yesterday, some people may judge your blog by it's photos. You know the old saying "Don't judge a book by it's cover." Unfortunately, it happens, which is why we want to tackle some of these photo editing tips to make your images more appealing to your readers.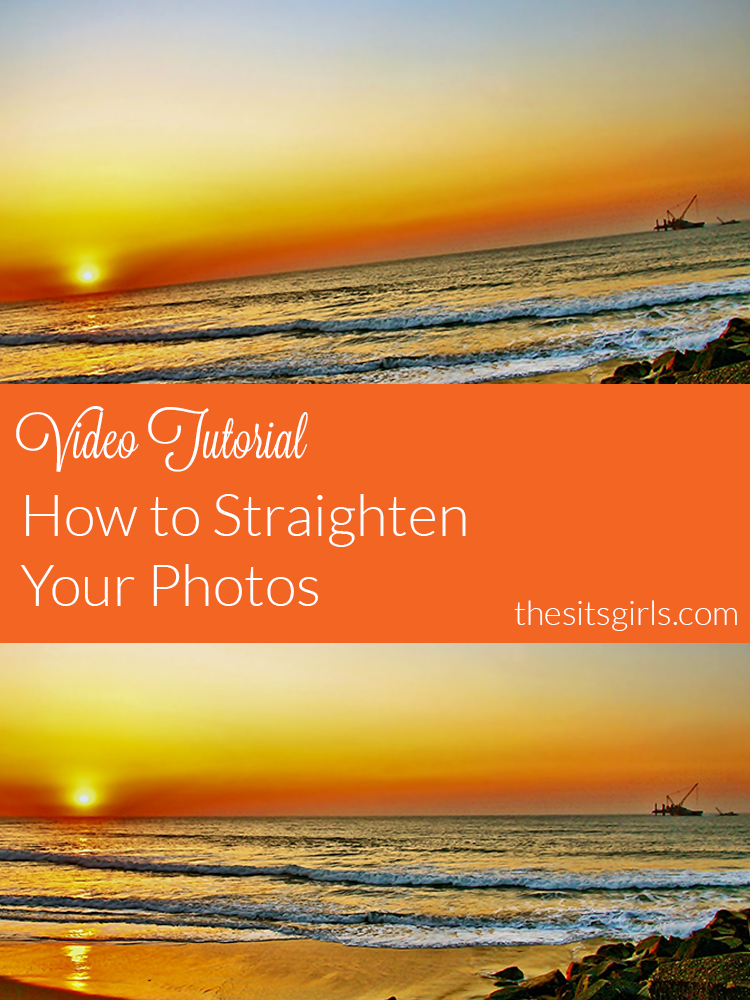 How To Straighten Photos
I am the worst about not holding my camera straight. Let's get serious, most times you are trying to corral small children while taking a picture. Luckily, this is something that is easily fixed after the photo is taken.
Why Straighten Photos?
Bottom line: If your image is really slanted, then it looks like your subject is going to fall out of the frame.
Some photographers feel this is an artistic way of taking images. That is a personal choice. However, unless your tilt is quite drastic and looks intentional, your photo just looks like a tilted horizon. Personally, I prefer images to be straight.
Straight Photo Examples
As you can see in the example below, sometimes the tilt is subtle, but it's still there.
You can use different programs to create straight pictures, such as
Lightroom
,
Photoshop Elements
, and iPhoto, but if you prefer to use a free program, check out this list of great sites for
online photo editing
.
Photo Straightening Videos
Using Lightroom to Straighten an Image
How to Use iPhoto to Straighten an Image
Using Pixlr (free online editing program) to Straighten an Image
More on How to Take Good Photos: Hide Cluttered Backgrounds
Taking good photos can be a challenge if you do most of your photographing for your blog at home. At least it is for me. I have two small children and keeping a house clean is a constant chore. No worries. You don't have to keep your house clean all the time (However, if you do, that is fantastic…what's your secret?)
You want to make sure that everything in your image is there to help tell the story, not to distract.
If you know you are going to take a pictures of your kids doing a craft, playing in the their room, or jumping off the couch, take 5 minutes to throw all the junk out of the frame.
That's right, you don't even have to put it away.
Just get it out of the picture. Throw it in the hall, a closet, the bathroom, or anywhere where it isn't in the picture. You would be surprised at how removing a few simple distractions can really draw your viewer in and help them see what you want them to…rather than the dirty laundry sitting on the chair.
It's actually a little embarrassing to show you these before pictures. In fact, I'm sure my mom is embarrassed (who signed up for this challenge by the way…Hi Mom!)
As you can see, I just threw my clutter out of the frame. It took me about 2 minutes.
Let's pretend after I took these pictures I actually put everything away. Okay?
However, if the point of your blog post is to show the chaos of your house then of course include the clutter.
If you would like to see more examples, check out one easy step to
make your photos look professional
and how to use Lightroom to
remove distractions in photos
.