This post may contain affiliate links which may give us a commission at no additional cost to you. As an Amazon Associate we earn from qualifying purchases.
Did you cringe or maybe even cry when you heard that Google Reader was going to shut down? If you did you're not alone! The scramble is on to find a new way to keep up with all of your favorite blogs. If you haven't committed to a new reader yet, you might want to consider Feedly.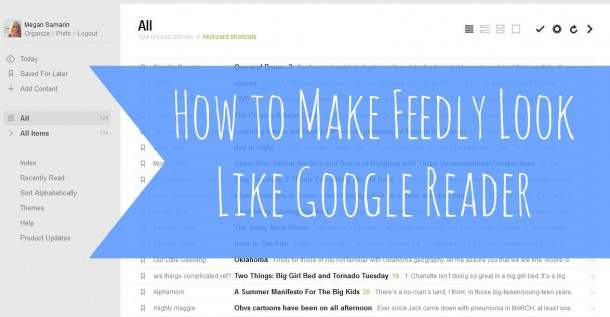 Replace Google Reader with Feedly
I know we're all dealing with the loss of Google Reader in our own way. I'm still using the Next button until it fails me, but I've also set up a contingency plan for the day when my reader is no longer.
There's a lot of talk about Feedly vs. Bloglovin', vs The Old Reader, and I'm a Feedly convert. Even though I'm liking the new platform, what I really wanted was for my new reader to look like my old reader. I know Feedly is pretty and has a lot of great options, but I'm only interested in those options that give me a familiar experience. I spent a little time figuring out how to make Feedly work for me.
Read on to learn how to make Feedly look like your familar Google Reader.
Read the Full Post Here: How to Make Feedly Look Like Google Reader