This post may contain affiliate links which may give us a commission at no additional cost to you. As an Amazon Associate we earn from qualifying purchases.
When it comes to saving money, it seems to be a lot like laundry to me. You put a load in, go about your daily tasks, then realize you forgot to move the load over and end up re-washing it again! Why is it so hard to remember? Because other things get in the way. This can ultimately be the same when it comes to saving money. Other things are going to come up and get in the way.
It does not mean you can't keep trying.
There are real ways to save money, and you can do it.
It all comes down to determination for change. Change, simply put, is hard to begin and harder to stick to. It takes 21 days to make (or break) a habit, why not start today and see what happens!?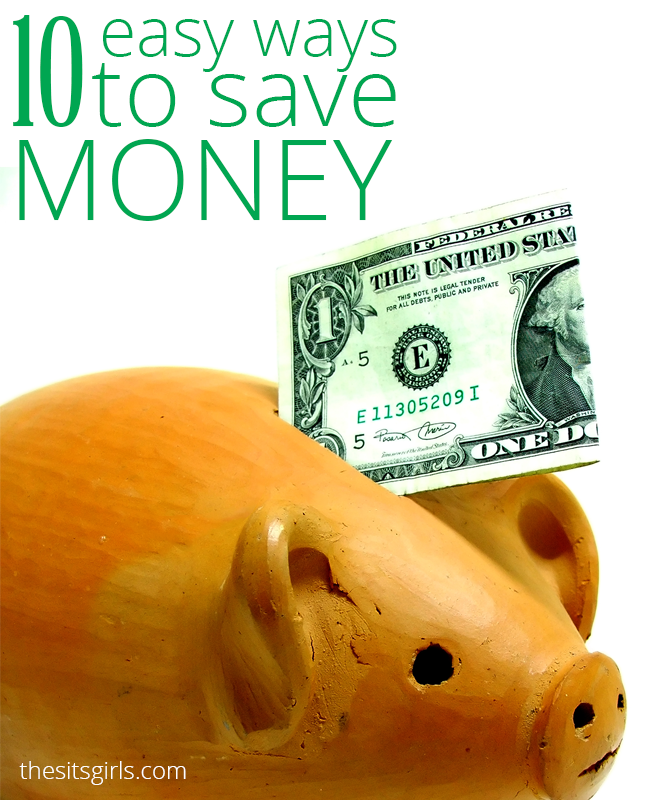 First Step To Saving Money: Track your Spending
There are many times throughout my life when I felt like we had more bills than money. The greatest thing I have learned for understanding how to save is to gain total control of how you spend money. When you see where your money is going, you can then assess where to cut things out. First you need to get organized!
1. Write It All Down
This can be the hardest part, to keep tract of every little thing you do. But if you can break it down into categories, and fill in the blanks, you should be fine!
2. Make A List Of Categories
Write down all of the things you can think of. My list consists of: home, car, food, medical, utilities, personal care, kids, other.  After you have decided on your categories as well begin tracking!
3. Choose A Method Of Tracking
No matter what way you decide to do, they are all essentially the same. There is excel, google forms, apps on the phone, or even an old fashioned pen and paper.  Yup the old "pen and paper" method can be just as good!
I think the easiest way to begin is printing off any form of expense tracker sheets and begin writing down every receipt you get within your categories.
I'm Tracking My Spending. Now What? 
Gather all, and I mean ALL, of your receipts. The squished ones in your purse, the ones you left on the counter, and the ones that are somewhere in your car. Write them in the tracker under the category they fall under. I like to put what I paid with also. This way I know if I use more cash than debit card.
I also go through my receipts to make sure the items do not fall under two or more categories. Such as a quick Walgreens run for toilet paper, baby food, an ice cream. Because, let's be honest, we need ice cream every now and then!
Creating categories, listing your expenses, and following it consistently will allow you to get a picture where you spend the most each month.
TIP: Your Monthly Income – Your Expenses = Your Total Savings each month!
It might not be a lot but put it away in savings!
My Best Money-Saving Advice: 10 Ways To Save Money
1. STOP SPENDING! STOP SPENDING! STOP SPENDING!
No kidding. But really, every time you go to shop or look online, take a look at the budget and make sure you have enough "left over money" to justify spending on that item. If not? Then it can wait.
2. If It Can Be Done By You, Then YOU Do It
There are many times it seems easier to pay someone to get the job done than do it ourselves. But if it is not something that requires high maintenance work, try doing yourself! It will save more money when you do it yourself.
3. Grow A Garden
Not a lot of people can grow gardens due to where they live or circumstances. If you grow your own food, it will save you so much money at the store! We are not great at growing our own food, simply because we are in an apartment still, and the things that DO SURVIVE on our balcony barely makes enough for all of us. But it does not stop us from trying!
4. Learn A New Skill
This is huge right now. Put the time you could be watching Netflix towards learning something new! Etsy shops are opening daily with people learning new skills and selling their work for money.
5. Coupons
I love coupons. I am not intense about it like you see many of the women on tv. But I do like have a few coupons to take to the store on big grocery trips. There are many sites dedicated to teaching you how to begin if you do not know how!
6. Once A Month Grocery Shopping
On that note, going grocery shopping once a month helps. We are a family of four and go once a month. That's right once a month. We cut out all "unnecessary foods," such as processed foods, and mainly buy produce, meat, and the essentials like bread and milk. Cooking from scratch is so much better for you, and it saves you money!
7. Use Cloth Diapers
If you have kids in the diaper phase of life, cloth diapers can be a HUGE money saver.
8. Reuse Things That Can Be Used Again
I'm not saying to use the same coffee grounds for a week. But there are things you could use a second time or repurpose to save money. Be mindful of that before you throw things away.
9. Make Your Own Detergent And Clean With Vinegar
You will be shocked how much money this will save you. I spend about $10 annually on cleaning supplies. Plus, you don't have to worry about harsh chemicals in your home or your clothes. You are going to clean anyway, so you might as well save money while you do it. Plus, making your clothes last longer by not using harsh detergents is just one more way to save money!
10. Make Your Own Beauty Products
There are so many great recipes for DIY beauty products out there. You can make your own scrubs, lip balms, lotions, and more. This is an easy (and fun!) way to save money.
There are many ways to save money. It just takes the time to change, and perseverance to stick to that change. There are always going to be the occasional fun runs to the store, but assessing what your NEEDS are vs. your WANTS can help you save towards each.
Good luck making a change and saving money each month!
What helps you save money?
Want to learn how to clean with vinegar?
Check out 16 ways to use vinegar in your home!