This post may contain affiliate links which may give us a commission at no additional cost to you. As an Amazon Associate we earn from qualifying purchases.
Did you know that the average American family is spending less and less time together, and it's affecting our health and our children's performance in school? Eating as a family has declined, as has cooking together, taking the time to prepare healthy, home-cooked meals. And rushed meals, fast food, and processed food have increased, along with school truancy, weight gain, alienation, and family dysfunctions.
The Atlantic reports that "the average American eats one in every five meals in her car, one in four Americans eats at least one fast food meal every single day, and the majority of American families report eating a single meal together less than five days a week." This has to change.
Eating together should be prioritized right up there with family health. And while it may not be practical to cook together every day, there are many benefits to this delicious family activity. In fact, after reading about the seven wonders of family cooking below, you may consider squeezing it into your schedule at least twice a week!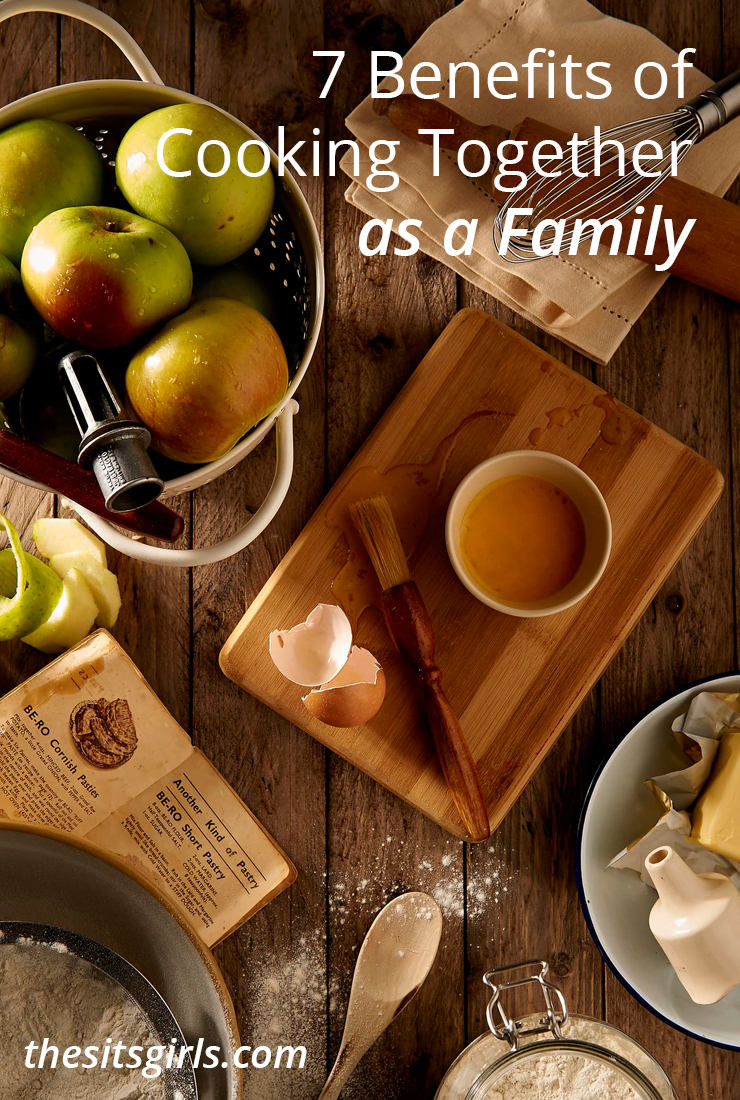 7 Benefits of Cooking Together as a Family
1. Cooking your meals increases your family's health. Doing it together teaches your kids about nutrition and gives them an appreciation for healthier foods. And it's a great way for us parents to eat well while managing our weight. It's a delicious way to jumpstart a healthier lifestyle!
2. Cooking together unifies the family. And with the kitchen as the setting, it's easy to get everyone together. So, instead of everybody doing their own thing while one person prepares the meal, why not get some quality family time out of it? Everyone benefits!
3. Cooking together is an engaging, offline social activity. It's an easy way to get the kids and parents, alike, to unplug and connect with each other. It's kind of hard to multitask with a mobile device while washing, chopping, and prepping food, playfully tossing colorful veggie wedges at each other, and sneaking far too many tasty morsels in the process.
4. Got little picky eaters? Family cooking can help that! Kids with ticklish taste buds are more likely to eat what they make. With severe cases, no judgment if you cheat and let them "taste" a meal's worth in the process.
5. Cooking as a family is progressive. When every family member, regardless of gender or age, participates in cooking, serving, and cleaning up, it helps advance modern families past stereotypes like: women only belong in the kitchen; dads are just couch potatoes; children are helpless.
6. Cooking together also promotes gratitude. Parents often have to remind kids not to play with their food, or turn their nose up at it, or toss it on the floor. This is usually due to a lack of gratitude or appreciation for having food, for starters, and for the time, effort, and love invested in each meal (sometimes, the kids aren't the only ones guilty of not appreciating this last part). Cooking as a family is a fun alternative to all THAT!
7. Cooking is an excellent developmental activity for small children, with all the sorting, reading and following instructions, measuring, colors and textures, smells and tastes. And in a family setting, all kids can benefit from social development, communicating, sharing, coordinating tasks, planning, problem-solving, even playing, and so much more!
And if you're like me and never cared for cooking, you may be surprised how fun it is as a family activity. (A word of caution: Teach those kitchen nook nibblers to clean up with you, or you'll be left with a mess so big, you'll never want to cook with them again!)
Enjoy making yummy memories and scrumptious food and getting healthier — physically, psychologically, and socially — every time you do it. Nothing wrong with that!
"I think togetherness is a very important ingredient to family life." – Barbara Bush
Author Bio: Elle 
Elle C. Mayberry is a mom and freelance writer, who just released a new children's book with her super first-grader. With a passion for parenting, writing, and degrees in psychology and "make it workology," she created Tuned In Parents (TiP) to connect with you!