This post may contain affiliate links which may give us a commission at no additional cost to you. As an Amazon Associate we earn from qualifying purchases.
Our Ask the Expert series on health continues today as Jen responds to a question about caffeine intake.  She's giving you the inside information on how to stay awake and ensure that you're not overdoing it when it comes to how much caffeine you drink.  To learn more about Jen, head over to the forum.  You can also leave your own health related question for her, which she will answer in an upcoming post.
Question: Caffeine.  It is vital to my survival.  How much is too much?
I need to have my coffee in the morning. If I don't, the headache that I get is enough to send me to bed for a week. Well, not a week, but it is a terrible, debilitating headache.
The reason is that I am addicted to caffeine. Over 90% of Americans are in the same boat as I am. We all need the drug caffeine to not only get our bodies moving in the morning, but also to sustain us throughout the day.
Coffee and caffeine used to be on every one's no-no list, but over the years there have been many, many studies done on the subject that suggest there are actually health benefits to coffee and caffeine intake.
According to a large study done by Harvard University where they looked at 126,000 people over an 18 year period, people who drank one to three cups of coffee a day are up to 19% less likely to contract diabetes. But what was really interesting about this study was that people who drank six or more cups of coffee a day decreased their likelihood even more, men up to 54% and women up to 30%. [source: Kirchheimer]
Other health benefits of caffeine, including sources such as soda, tea and different foods include:
Two cups a day reduces your risk of colon cancer 20 percent.
Two cups a day causes an 80 percent drop in cirrhosis.
Two cups a day prevents gallstone development by 50 percent.
It has also shown to be beneficial in asthma, stopping headaches, boosting mood and even preventing cavities.
Regular coffee drinkers are 80 percent less likely to develop Parkinson's disease.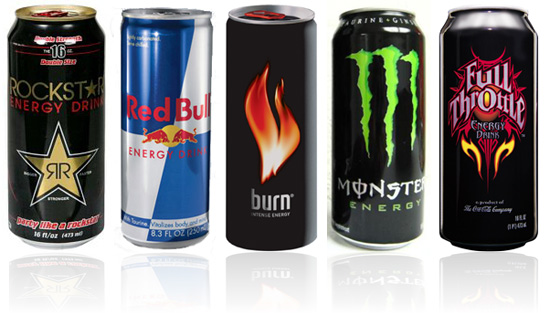 That being said, caffeine can be detrimental to your health. Moderate caffeine intake, meaning 200 to 300 milligrams or two to four cups of brewed coffee a day, is most likely not harmful to anyone (unless you have certain medical conditions and have been told by a doctor to limit or end your caffeine intake). It's when you get up into the 500 to 600 mg or four to seven cups of coffee a day that you can experience things like:
Insomnia
Nervousness
Restlessness
Irritability
Nausea or other gastrointestinal problems
Fast or irregular heartbeat
Muscle tremors
Headaches
Anxiety
So now we know how much caffeine is likely to cause us harm. But what is the caffeine content of the things we drink like coffee, soda tea and energy drinks?
Here is a table of the most commonly consumed caffeinated products and their caffeine amounts.
| | |
| --- | --- |
| Common Type of Caffeinated Beverage | Amount of Caffeine in mg |
| Generic coffee, 8oz | 95-200 |
| Generic decaffeinated coffee 8oz | 2-12 |
| Espresso, 1oz | 58-75 |
| Black Tea 8oz | 40-120 |
| Green Tea 6oz | 26 |
| Cola | 35 |
| Diet Cola | 47 |
| Mountain Dew regular or diet | 54 |
| Red Bull 8.3oz | 76 |
| Monster Energy 16oz | 160 |
For a more complete list, check out the information here and here.
This info is not meant to encourage you to start or stop drinking caffeine. It's here mainly to give you the facts.
I know that I like coffee too much to ever give it up and, if I keep within the recommend amounts, then I am not doing any harm to my body and may actually be providing myself with some benefits.
So go ahead!  Drink caffeine.  Just do it wisely, in moderation and while drinking water.
And if you have a question about your health, then please ask in the SITS forum.
Resource Sites:
http://www.mayoclinic.com/health/caffeine/NU00600
http://health.howstuffworks.com/wellness/drugs-alcohol/caffeine5.htm
Landing page photo credit: cleanherbalenergy.com