This post may contain affiliate links which may give us a commission at no additional cost to you. As an Amazon Associate we earn from qualifying purchases.
It's late in the day.
Soccer practice is in an hour, then dance lessons after that.  Hubby has a late meeting. The dinning room table is covered with laundry and dinner will not make itself, no matter how much you will it to.
The last thing that you have time for is a sick kid, but that is when it happens. You reach down to pick up the whining child that you have been stumbling over for the last hour and, as you take them in your arms, the heat of their body almost causes you to drop them.
A fever.
You don't even need a thermometer to tell you that this fever is high. One kiss on the forehead that burns your lips is all you need.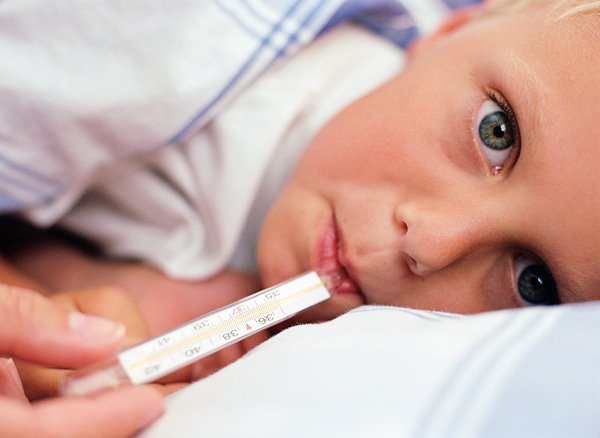 So now what?
A fever itself is not in fact an illness. It is how the body fights off an illness.  If the child can tolerate the fever and is not too uncomfortable sometimes it is best not to treat the fever. For example, if a child is sleeping comfortably, then there really is no need to wake them to give them medicine to bring the fever down.
But usually when our kids have a fever, they are uncomfortable. Our first instinct is to get their temperature back to normal range so that their temperament will once again be happy, and not the whinny sad mess that is a sick kid.
When a child has a fever, it can come in a range of temperatures, all the way from low grade 101F to a maximum of 106.5F. (This just just for children, the adult range is different.) Is is not uncommon for a child to have a fever of 102-103F.
We have established its a fever, but when should you worry and seek medical attention immediately?
When to seek medical attention for a fever
Your child is under 3 months of age and has a temperature of 101 or higher.
Your child is acts confused or delirious.
Your child has a stiff neck.
Your child is still irritable and uncomfortable after treatment with Tylenol and Motrin.
Your child seems dehydrated (not urinating at least every 6-8 hours, dry tongue, no tears).
Your child has severe belly pain.
Your child has difficulty breathing, grunting or moaning with each breath.
The fever is greater than 106F.
Your child as a febrile seizure for the first time.
Your child has any underlying health risk for which a fever would not be a good thing.
Most fevers can be treated at home and will be gone in couple of days. But, if it persists for more than two days and is associated with ear pain, throat pain or burning/pain with urination, it is best to go and see the doctor.
What is the best way to treat a fever at home?
Get your child to drink plenty of fluids. Offer small amounts more frequently and, if they won't drink, try a popicle or Jell-O cubes for older children.
Keep the room cool if possible,. Don't over dress a child to try and 'sweat the fever out'. A good rule of thumb is to dress them as you would be dressed. It is alright to give a feverish child a cool bath, but make sure it is not too cold as that induces chills and shivering. A luke-warm bath will feel good to a child.
Medication. Acetaminophen (Tylenol) and/or Ibuprofen (Motrin or Advil) are the best medications to treat a fever. (Never give a child aspirin.) They are most effective for high fevers (greater than 102F in children) when used in combination. Alternate Tylenol and Motrin every three to four hours. For example, give a dose of Tylenol at 3pm, a dose of Motrin at 6pm, followed by a a dose of Tylenol at 9pm and so on. In doing this, the fever should be down, if not gone, in a few hours.*
A fever can be a scary thing, but it really doesn't have to be.
In general, a fever will make a child feel uncomfortable, but will not harm them and is part of the body's natural defense against illness. Most fevers that are associated with a cold or flu will be gone in 24-48 hours. If the child can tolerate it, don't treat it, but, if you need to, use cool compresses and medication. If the fever persists longer than 48 hour, the child is not responding to treatment, or you feel uncomfortable, a call to your doctor is always best.
* It is best to discuss giving medications to your child with your family physician.
More from Jen in our Ask the Expert series:
Around these parts, Jen is our go-to SITStahs with the answers to your health questions. To ask a question of your own, be sure to visit her in The SITS Girls discussion forum here.