This post may contain affiliate links which may give us a commission at no additional cost to you. As an Amazon Associate we earn from qualifying purchases.
No one likes eating alone. I dread cleaning alone. When my close friend recently came to visit me in Las Vegas, I discovered that cleaning with your girlfriend is not only helpful, but kinda fun. Okay,  maybe not really fun, but much better than going it alone!
When my girlfriend told me she was coming to visit I had no idea that she actually had secret plans to revamp my closet and makeup space.
The thought of this particular girlfriend helping me get organized was rather funny to me because we sang in a band together for years, and she was the messiest of all the girls in the band. Her room looked worse than any natural disaster you've ever seen. But with her prodding and "quick to throw away"  hands, my closet was cleared out, organized, and totally amazing when we finished.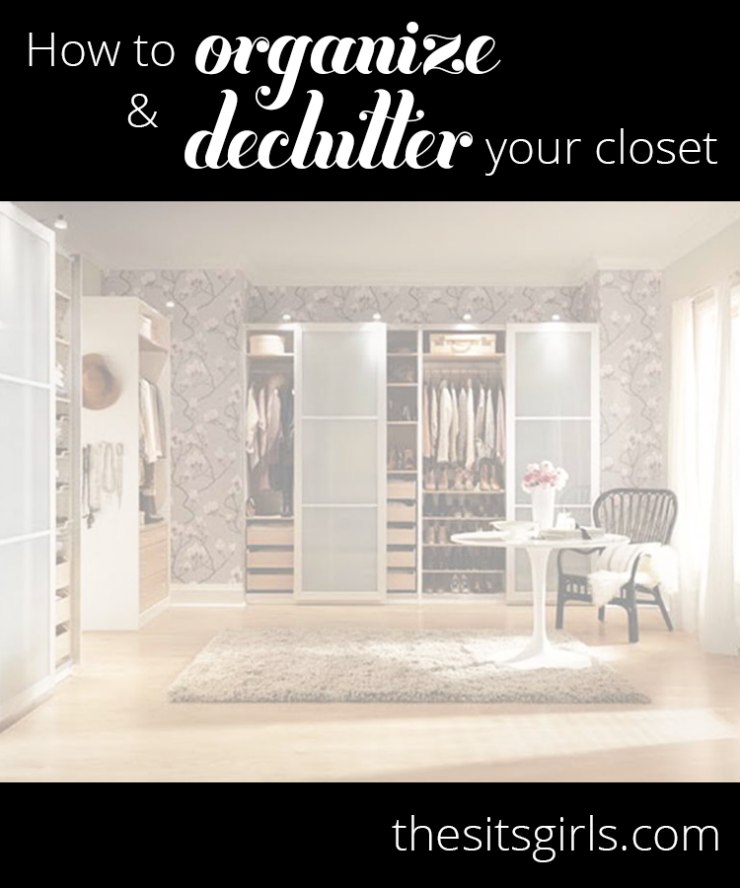 Closet Organization Tips: How To Declutter Your Closet
If I can do it, anyone can do it! It's a brand new year.  Let's get pumped up and ready to get those closets cleaned out.
What You Need To Organize Your Closet
A good friend. Cleaning is much better with good company. In addition, when you are tempted to have a hoarder moment and keep what should be tossed, your trusted friend will offer some sensitive advice like "Those shoes are so old they could have been Wilma Flintstone's… throw them out already!"
Some big huge garbage bags. You are getting ready to clean, clear, donate, and trash. You'll need some bags.
A ride. You'll be headed to Wal-mart or Target to pick up some organizing tools like shoe racks or hanging organizers, so grab your keys and get ready to roll.
A camera. You'll want some before and after pictures so you'll have proof of what an awesome job you did.
A vacuum. There will be lots of dust bunnies, and some other things you didn't even know existed, and you'll want the vacuum handy to suck it all up.
My before pile was HUGE. Seriously huge. Take every single thing out of your closet! Once you take everything out, you can decide what will go back in your closet, and what will be tossed or donated.
Start The Purge and Organize
Use piles: Shoes, summer, winter, keep, trash, donate. It's really important that you go through your clothes and if you haven't worn it in a year, chances are it can be tossed or donated. The goal is to really get rid of some
extra pieces so you'll have more room in your closet for the clothes you love.
Think about your goals. Do you want to get shoes off the floor? Do you need bins to put belts in? What are you hoping to change? Do you just need more space? These questions will help you to know what organizing products you will need.
Get some organizing products. I love shoe organizers. They take up very little space with huge results. There are also shoe racks for the floor. Consider buying plastic bins for scarves, small belts, and dress slips and other miscellaneous items. Buy all white hangers to make the closet look extra clean.
Keep your closet seasonal. If it's winter, put the halter top away and if it's summer, you don't need the bulky sweater. Store out of season items in the garage or another room and open up that valuable closet real estate.
Restock the closet – shoes first. Now it's time to put everything back into your closet. Start with the shoes first by adding your shoe organizers. I organized my shoes according to groups. Flip flops, boots, and heels all got grouped with like pairs.
Next up – clothes. Once all the shoes are organized, move on to clothes. Organize shirts by color group so you can find what you need.
Once you have everything loaded back into your closet step back, breathe and do your crazy happy dance because you just created an amazing space!
After I organized my closet, it was so nice. I could easily find what I was looking for. I was no longer overwhelmed by all the things that didn't fit to find the things that do. Getting ready in the morning is easier and faster.
About the Author: Lisa
Lisa is the voice behind Mompreneur Mogul, a blog where she shares parenting advice, blogging tips, inspiration, and big laughs. She is a Mompreneur & freelance writer. When Lisa's not busy with her many projects, you can find her on Twitter or Facebook, or working on her newly developed product for moms and their babies. She currently lives in Vegas with her husband Chad, daughter Matilda, English Bulldog Harley, AKA "El Diablo" & Hank, her Pit Bull(lap dog).