This post may contain affiliate links which may give us a commission at no additional cost to you. As an Amazon Associate we earn from qualifying purchases.
Dr. Melissa, our resident parenting expert from Confessions of a Dr. Mom, is back today and talking about whether or not to co-sleep. It is a personal decision that many parents face. Read and learn more about the pros and cons of co-sleeping with your baby.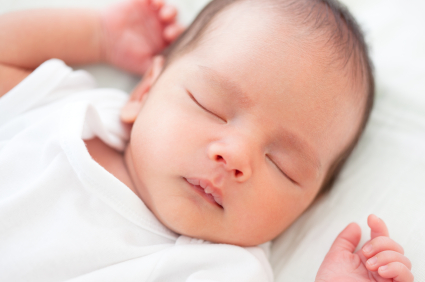 Co-sleeping, or more specifically bed sharing, is a hotly contested issue and for good reason. At the core of this complex issue is infant sleep safety. Pediatricians and child safety advocates worry that co-sleeping is inherently more dangerous than crib sleeping and may increase the risk of SIDS. And, while several studies have been done surrounding infant sleep and safety, none have been entirely conclusive.
What is clear is that sleep safety is paramount and must be taken into account when preparing a crib or bed for your baby.
The AAP (aka the American Academy of Pediatrics) recommends that infants sleep in a proximate, but separate sleep surface than their parents. This means in the same room but in a separate crib, bedside co-sleeper, or bassinet for the first 6 months of life.
However, what if you choose to co-sleep with your baby? Do you know what steps to take in order to set up the safest possible sleep environment for your baby in this situation?
In favor of full disclosure, I ended up co-sleeping with my first child. I didn't set out to. However, this lovely child of mine needed that sleep touch and comfort to sleep. Believe me, he did. So after months of angst and worry, I finally set up a safe co-sleeping environment and forged on.
My second child was completely different. As children will be. She slept just fine in her bedside bassinet for the first few months and transitioned easily to her own bed when the time came.
Each child is different, this much we know. As a pediatrician and mom, what matters most to me is safety. Safe sleep practices are of the utmost importance when it comes to infant sleep. I'm often surprised when parents seem hesitant to talk about where their babies sleep. It seems the taboo of co-sleeping reaches far and wide.
Being ever so hopeful for open communication and honest dialogue, this is where I ask you: Do you co-sleep? If so, how did you come to this decision? Do you feel you can talk openly to your pediatrician about your sleeping arrangement? What safety precautions have you taken with regards to co-sleeping?
Yes, I want to know. As parents, we arm ourselves with information, educate ourselves on the evidence, and make the best possible decision for our children and our family. Let's have the discussion and speak honestly about this important and very personal issue.