This post may contain affiliate links which may give us a commission at no additional cost to you. As an Amazon Associate we earn from qualifying purchases.
So let's just say that you are a blogger. And a stay-at-home Mom. Who doesn't have a once-a-week or twice-a-month or even an every-so-often cleaning lady come to visit her house. And let's just say that in the few hours you have "to yourself" when the kiddos are in school (which are very few if your young ones are only in preschool), you need to find time to write, to exercise, to get a few items crossed off of your long-running "to do" list…. AND to clean your house.
You sound like a woman who needs a plan.
Lucky for you…. I've got one to share. But it's a two-parter. Keeping your house "clean" involves a regular schedule of de-cluttering AND dirt removal… and you need to tackle both to stay ahead of the game. I cover the down and dirty (pun intended) basics of Daily De-cluttering in today's post over at Momof6. But SITS-tahs…. Once you've got that clutter under control, you need a real plan to tackle the dirt- without feeling like you are devoting the better part of your day (every day) to it.
My plan of attack involves spending an hour or so each day (excluding laundry time- which in our family of 8 is quite substantial!) taking care of the dusting and vacuuming and general cleaning while the kids are in school. I prefer to tackle one area of the house each day, and completely clean that area- moving onto a new area the next day- rather than dusting the entire house on Monday and vacuuming the entire house on a Tuesday, etc. Tackling a piece of the house at a time gives me that "aahhhh" feeling at least in one or two completely cleaned rooms… which gives me the inspiration to continue the next day!
So here it is….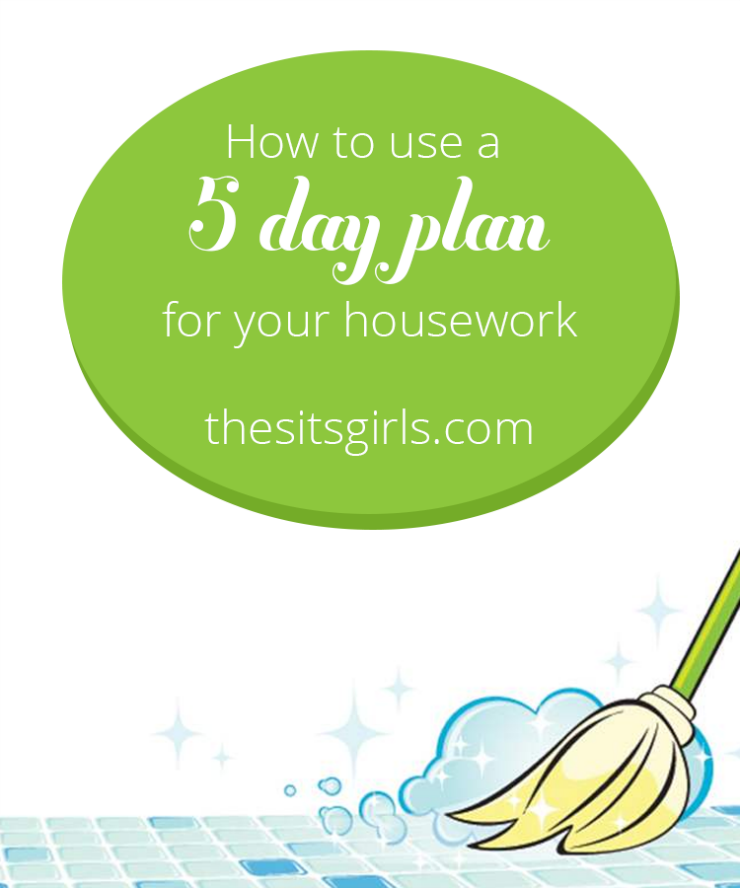 My 5-Day Plan to Stay on Top of Housework!
Mondays: When the kids get up in the morning, I have them remove the sheets from their beds… because Mondays I tackle the linen laundry (sheets and towels) and then re-make the beds.
Tuesdays: This is the day that I tackle all of the bedrooms, the upstairs hallway and the laundry room. While the kids are involved in my daily de-cluttering plan, on Monday nights I remind them to make sure that their desks and bookshelves in their bedrooms have been cleaned up, which makes dusting these areas a quick task. I also vacuum and mop the floors, using a long handled duster to get to all of those bunnies that like to hide under the bed!
Wednesdays: I dedicate my cleaning hour to the delightful task of cleaning the bathrooms (I'm not going to go into details here, but let's just say that with four young boys in the house, this is not my favorite job!). Mirrors are cleaned, sinks, countertops, and showers are scrubbed down, and toilets are swished. 'Nuf said.
Thursdays: To keep my daily workload limited to one hour, I divide our first floor into two sections- saving the kitchen for Friday since it takes more time to properly clean. On Thursdays, I dust, vacuum, and mop the entryway, the family room, the dining room, and the hallway. And I spot-clean the windows to remove little hand prints and doggie nose prints!
Fridays: This is the day that I tackle the kitchen, and even though I clean the table and the countertops after each meal throughout the week, on Fridays I really deep-clean the countertops (moving all of the appliances to clean under and around them), and I scrub-down the stove top, the kitchen chairs, and tackle the sticky floors (you know, to clean up anything that the dog might have missed!)
Some Things DO Fall Outside of the 5-Day Plan…
Now there is housework that I do outside of this one-hour a day schedule. On Sunday and Thursday evenings, the kids gather and sort all of the clothes laundry- which I then start that evening and then fold and deliver to their rooms the next morning. On Sunday evening I also plan our family's meals for the week and map out my grocery shopping- making a list of what to purchase, pulling coupons, and looking up deals and deciding what to stock up on. Watering plants and paying bills are also weekly tasks that I tackle outside of this one-hour a day plan.
Cut Yourself Some Slack
Of course, there are weeks when the whole thing is thrown out the window (during school breaks for example), and I just do the bare minimum- such as cleaning the bathrooms and doing some laundry, and ignore the rest. When I skip a week, I know that I can always get back on track again the following week and all will be fine!
Reap the Rewards
Back when I was a working-outside-of-the-home Mom, I used to pay for a cleaning lady to come into the house once a week and tackle all of this for me…. and I loved walking in the door and breathing in deeply and inhaling that freshly-cleaned-house-smell, knowing that the dirt and dust were gone once again. And I thought that I might lose that feeling by tackling my housework bit-by-bit in this manner. But you know what? I still get that "ahh….." feeling at the end of the week when my house is clean and feels restored to order! AND I gain all of the satisfaction that comes with having done it myself!
About the Author: Sharon
My name is Sharon and I am the busy Mom of six children ages 11, 9, 8, 7, 6, and 6. People often ask me "How do you do it?" I tell them that my key to success lies in planning ahead, with a whole lot of creativity and organization thrown in! Momof6 is the place where I share all of my tips and techniques to inspire you to tackle your own busy life! blog: www.momof6.com, facebook: SharonMomof6, twitter: @sharonmomof6