This post may contain affiliate links which may give us a commission at no additional cost to you. As an Amazon Associate we earn from qualifying purchases.
Every time someone uses the sink in my grandparents' tiny kitchen, my grandma gets up to wipe and polish it till it shines. My grandma is in her eighties, her feet are twisted with rheumatism that every step hurts. Yet she will stand up, take step after painful step to the sink – and polish it clean.
I watched her, thinking about how nobody in the whole family notices or cares whether the sink shines or not — yet she finds it important and squanders away her small store of life energy on it. This made me think of all the unnecessary tasks we homemakers do – tasks that bring little or nothing in return, tasks that steal precious time that could be used for better things (like blogging, yo).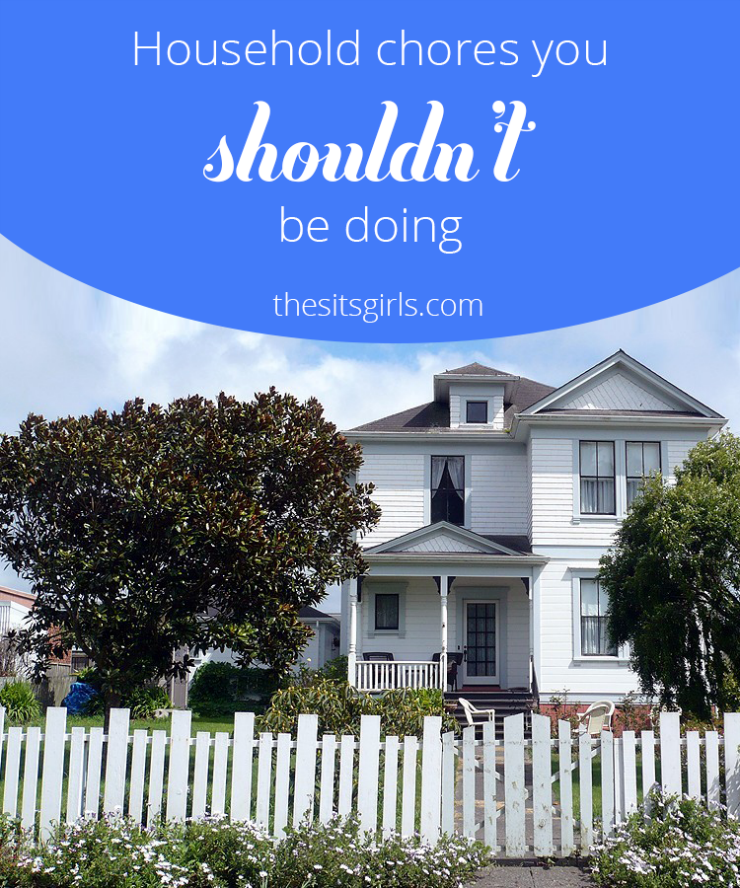 Household Chores You Shouldn't Be Doing
So, here is my list of low-return chores that many of you can probably strike off your to-do list without a calamity happening:
1. Shining the sink. Yes I know Flylady told you to, but don't be my grandma.
2. Ironing bed sheets. Either get bed clothes that don't wrinkle or simply stop caring about creases. If bacteria is your concern — all the bacteria on there has already been inside you. I never iron a thing, we co-sleep and my kids are sick once a year (yes, all that is true).
3. Ironing baby and child clothes. Kids look cute most of the time so nobody will notice wrinkles on their clothes (if they aren't being cute they are probably screaming their heads off, which is even more distracting).
4. Drying the dishes. Why would you spend time and energy in wiping them with a germy towel if they can drip dry by themselves in 15 minutes? Of course this tip assumes you do your dishes by hand (like me).
5. Vacuuming regularly while allowing outdoor shoes indoors. Shoes are carriers of dirt and toxins (including pesticides and lead). Having a no-shoes inside rule drastically cuts down cleaning time while keeping the home healthier. You can relax the rule when entertaining, if you like.
6. Laundering your clothes every day. In Europe we don't automatically wash everything (other than underwear) just because it's been worn. Check for smells and stains at the end of the day. If you don't live in a hot climate chances are most of your clothes are good for another day.
7. Weeding the garden. Either use mulch, or plant groundcovers (aka living mulch). Not only this keeps the soil healthier and fertilises the earth, it also keeps things from drying out. Which means will need to water less often!
8. Doing everything all by yourself. Helping around the house boosts the kids' self-confidence and teaches them important skills. When it comes to small kids it's easy: they love to help. Bigger kids are tougher, but they are also big enough to understand that everyone in the family pitches in. When it comes to adults, you need to vocalise your needs – nobody is a clairvoyant, so you need to tell them you need a hand.
Delegating tasks and requesting help is a complex skill, one every homemaker should develop!
Now over to you: which household chores do you think yield low returns and can be skipped altogether?
About the Author: Eternal*Voyageur
Eternal*Voyageur writes at Venusian*Glow, where she shares DIY skin care experiments, how she got her dream hair, and everything about breaking out of the bra matrix. When she's not blogging, she hoop-dances, thrifts, and backpacks with two little people. You can find Eternal*Voyageur on Twitter @eternalvoyageur and Facebook.