This post may contain affiliate links which may give us a commission at no additional cost to you. As an Amazon Associate we earn from qualifying purchases.
Do you ever get to the end of the week and say "I've gotten NOTHING done this week and it's Friday at 3pm! Now I have to pick up the kids, go into weekend frenzy mode, and my to do list has yet to be started! What am I going to do?"
That happens more than we'd like, yes? I used to wonder why so many weeks turned out this way, wonder why I had to stay up half the night to get my work done and wonder why I couldn't stay on top of my "to do" list. And then I figured it out.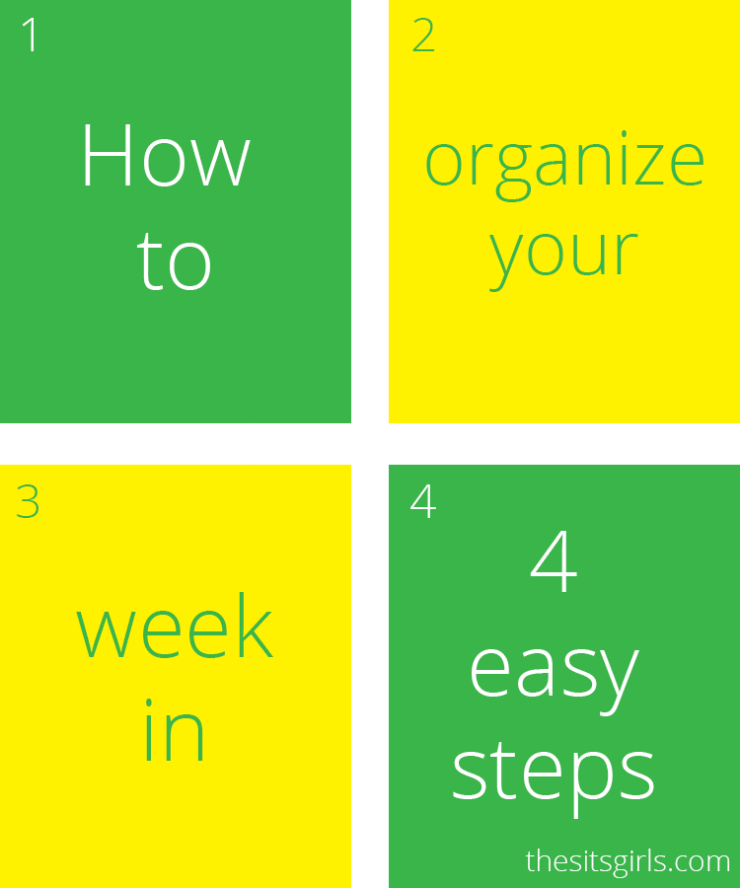 How To Organize Your Week In Four Easy Steps
Today I'll help you find your week's pattern and then give you advice on how to maximize your productivity within each week.
Step One – Find your week's pattern
Every week has a pattern. You may not see your week's pattern right away, but it's there. Some weeks are really busy at the beginning, the dreaded Monday. Some weeks are slow, peak in the middle, then slow down again at the end. Some start slow and pick up steam by Friday.
And while some of you may FEEL like your entire week is busy all the time, I promise it has a pattern.
You just have to find it.
Take a look at your own week. Go ahead, open your calendar.
I looked at fairly typical week in my calendar. In the beginning of the week, I have almost no commitments. Starting Wednesday, my commitment level increases and by Friday I'm scheduled with commitments and meetings almost hourly.
Almost every week is like this for me. A quiet Monday builds up to what could be a chaotic Friday. If I weren't prepared for it each week.
Step Two – Prepare for your Week
For preparing my week, I subscribe to the Montessori Method. In a Montessori school, they call it "having a prepared environment." If the classroom is set up in a very specific, child-friendly way, the child has greater opportunity for successful learning and reaching his or her potential.
Adults can approach their week the same way!
I call it "preparing the week." No later than Sunday afternoon or evening, sit down and look at your calendar. Find both the big time chunks that are spoken for and the areas where you are committed all day.
At the bottom of my master list list, I also include a special section for the volunteer work I do.
Once you make a master list, block out your week. If you have something big that's due, block out the time during a less busy part of your week. If you know that by Friday, you're not going to have a minute to breathe, then plan to have all of your work done before Friday.
Step Three – Stick to your Preparation
Step 3 sounds simple, doesn't it? But it might be the hardest one.
Why? Social Media! Pinterest. Other time sucks. Distractions. Procrastination.
But you can do it!
Stick to your preparation. You will reduce your stress level significantly if you stick to your schedule.
If you decide on Sunday night that you need to hammer out a 1500 word article by 11am on Monday morning because that's the only day you can write it, then by all means, keep Twitter, Facebook, and your blog reader closed until you reach your goal! Then treat yourself with some social time afterward.
Step 4 – What to do when things go amok
So we all have weeks that explode, right? You have the best plan laid for a super-productive, busy, yet manageable week and you are ready to go. Then, BOOM. A child wakes up with strep throat. Or an exepected work issue arises. Or you get sick. Life happens.
That crazy busy week I was talking about above? One of my children was up all night vomiting Thursday into Friday.
When this happens, recover as quickly as you can.
And what I mean is this: get to your plan, determine what CAN and CANNOT be prioritized. Do you have a deadline that is absolute and it's Thursday? Then that's a high priority. Did you plan to write that blog post that's been swirling around in your head for weeks, taking up space but isn't mandatory? That's something that can likely wait until next week.
In my case that week, I transferred two in-person meetings to conference calls, cancelled a doctor's appointment, and cancelled a much anticipated dinner with friends on that Friday. Because I knew up front what the week was going to be like, I'd already accomplished most of my work before my sick child changed my plans.
And there you have it. Four easy steps.
Find your pattern.
Work within the pattern of your week.
Stick to your plan.
Recover when life happens.
You (and your family) will be happier as a result. Less stress, more productivity. Win. Win.
About the Author: Missy Bedell
Missy Bedell blogs at The Literal Mom, where she encourages all parents to be "thinking parents." She uses humor, wit and sometimes even tears to communicate with her audience (and her kids!). You can also find her on Twitter and Facebook, as long as she hasn't blocked the time out for a deadline.