This post may contain affiliate links which may give us a commission at no additional cost to you. As an Amazon Associate we earn from qualifying purchases.
Maybe you're like me and don't get into the whole Black Friday thing, but you still enjoy a good bargain…and you need to buy gifts. Personally, I love to shop online. I don't have to get in the car. I don't have to deal with crowds. I don't have to freeze my nose off wading through the Minnesota snow. So I have figured out how to save money online shopping during the holidays, and hold on to some of my sanity, too.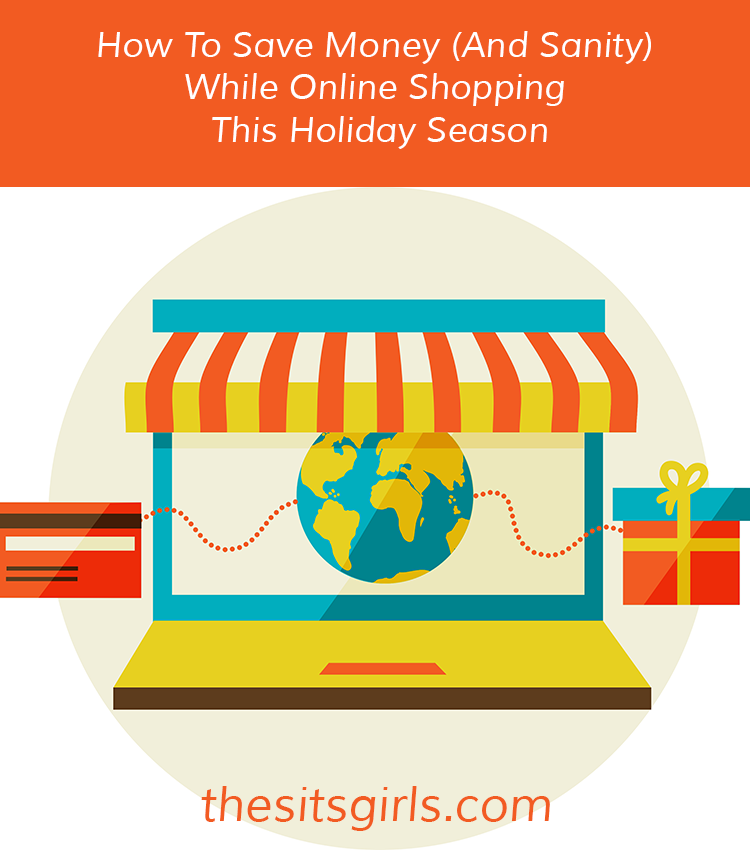 How To Save Money Online Shopping
Here are a few tips for making the holiday shopping experience a little more sane and a little less expensive.
Have someone who's difficult to buy for?
Yes, we all do. Check out sites like Etsy, aftcra, and Zibbet. They are great places to find unique and handmade items. Be sure to look at the shipping and manufacturing times before you order otherwise, you'll likely end up without a gift you thought would be in your mailbox by December 24th. Definitely contact the owners of the shop if you have any questions. They can tell you how long it will take should you need a custom item as well as if they have any faster shipping options not listed on their store.
Want to be paid to shop?
Did you know you can get a rebate when you shop at some major retailers online? Yep, sites like Ebates and CouponCabin offer cash back on sales that originate from their site. All you have to do is find the store on their site and then click through. Your rebate will range from 1% to 7% of your purchase depending on the store. They also have current coupons and promotions listed as well. Also, if you refer a friend to Ebates, you get another bonus. Here's my referral link if you'd like to sign up!
Coupons in your inbox!
Speaking of coupons, you should sign up for at least one coupon site. Some good ones include RetailMeNot, Savings.com, and ShopAtHome. You can sign up for their newsletter and get the coupons right in your inbox. The best part is that you can even find some travel deals, which will be especially useful when you've had it with the weather this winter. Odds are the coupons on these sites are pretty much the same, so don't sign up for all of them and have your inbox explode.
What's the deal?
If you're feeling really adventurous, daily deal sites might be a good fit for you. Places like Woot! and Deal of the Day Tracker list deals on all sorts of stuff that are only available for 24 hours or until they are sold out. One of my old coworkers was addicted to these sites. He'd be surfing them first thing in the morning and at lunch. It is fun to see what's for sale since the items change daily.
Pick it up!
No time for shipping? You can still do some of your shopping online. Places like Target, Best Buy, Macy's, and Nordstrom will let you place your order online and then go pick it up in the store. It can be one of those things you do on the way home from work or after dropping off the kids at school. Normally, you don't have to go to a checkout counter either. You go to the customer service desk, or some other designated area, and your items will be ready. Just check the website when you are shopping.
Do you have any other holiday shopping tips that could save time, money, or hassle?