This post may contain affiliate links which may give us a commission at no additional cost to you. As an Amazon Associate we earn from qualifying purchases.
I have some great tips for apple users to make dinner preparation easy! All you need is your phone and a little help from Siri.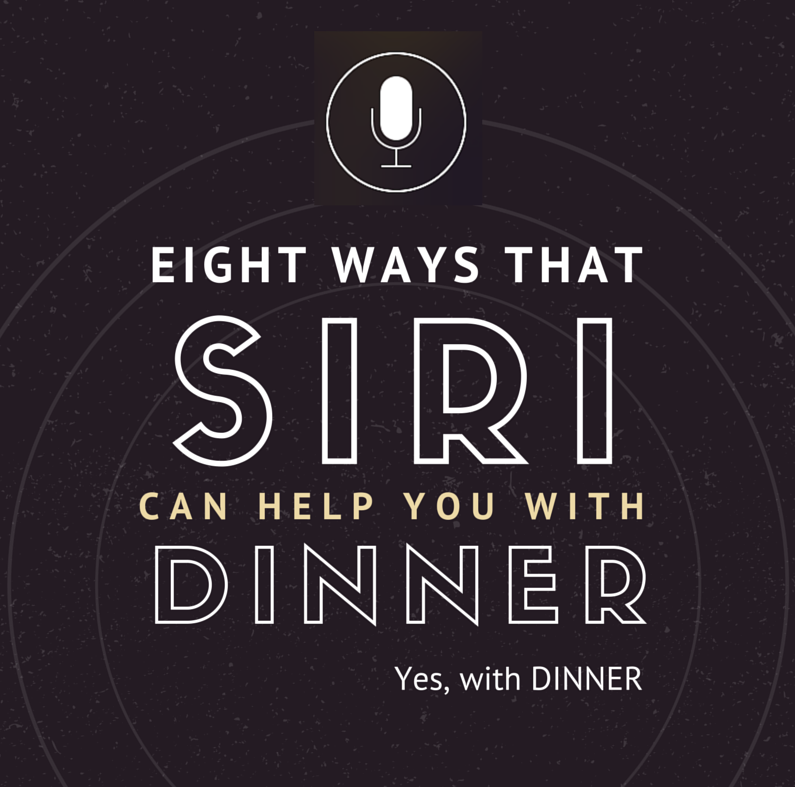 Meet Siri, Your Very Own Sous Chef!
1. "Hey Siri!"
When you're cooking dinner, your hands are probably going to get wet or dirty. Bring your charger to the kitchen with you, plug in your phone, and set it in a safe place. Go to Settings – General – Siri and switch on the Allow "Hey Siri" feature. If you need Siri to help you out when your hands are wrist-deep in the meatloaf, just say "Hey, Siri!" and it will respond without needing to touch the phone. (Note: your phone has to be charging for this feature to work) 
2. "Add bread to my groceries list"
When do you usually realize that you need to add something to your grocery list? If you're like me, it's when you're in the middle of cooking dinner. Don't stop what you"re doing to pick up a list or open your phone. Simply activate Siri and tell her, "Add bread to my groceries list." (For this to work, make sure you actually have a list named "groceries" in reminders)
3. Read your recipe
Before you start cooking, copy and paste your recipe into the notes application. Then tell Siri, "Read my note about the chicken" (or whatever your recipe is about) and Siri will read your recipe for you.
4. "Read my messages"
If you get a text message while you"re cooking, simply say, "Hey Siri (pause) Read my messages" Siri will read you all of your unread text messages and even ask you if you'd like to send a reply.
5. "Set a timer for…"
Need to set a timer for the casserole that you just put in the oven? Just tell Siri, "Set a timer for ___ minutes" and an alarm will go off when the time is up.
6. Conversions
Need to know how many ounces are in a cup? Just ask Siri.
7. Entertain yourself
Tell Siri to play your favorite playlist, or your favorite band. Don't like the current song? Tell Siri, "Skip song" or just "Skip" to move to the next one.
8. Did you burn dinner?
Siri can't help with everything. When all is lost, ask where to go for take out.
Author Bio: HiTechMom
I'm an Educational Technology Specialist, Technology Trainer, student, mom, wife, and sharer of things that will "embiggen your inner geek." What will you get from my site? The answers to all of your burning questions about Apple technology, gadgets, tech and how all of that effects your family, all smooshed together in a big apple-tech-gadget-parenting-banana sandwich.
I currently work for a high school where every student and teacher has an iPad and a MacBook. It's my job to make sure that all of it works and to teach them how to use it in ways that enhance their learning experience. Before this, I worked for Apple for 6 years as a trainer in their retail stores teaching customers to use their shiny boxes and gadgets. Prior to that, I spent 10+ years as a super-mediocre graphic designer. I am a mom and step-mom to 5 wonderful young ladies, and I'm married to the love of my life. You'll never guess where I met him… on the internet. Shocking, huh?