This post may contain affiliate links which may give us a commission at no additional cost to you. As an Amazon Associate we earn from qualifying purchases.
In light of Autism Awareness Month, Jen, from Buried With Children, continues with her segment on "The Faces of Autism" today.  Be sure that you don't miss Part 1 of this series, What Does Autism Look Like?, as well as Part 3, Understanding Autism in the Classroom.

Dealing with Autism day in and day out is something that I know nothing about.  So, in an effort to become more aware, I turned to three ladies who know Autism intimately.
Meet my friends: Sunday, who has two sons with Autism and blogs at Adventures in Extreme Parenthood, Jean, who has a son with Autism and blogs at Mommy to Two Boys, and Jessica, who has a teenage daughter with Autism and blogs at Four Plus an Angel
These wonder women and mothers where kind enough to answer my questions so that we might all learn a little bit more.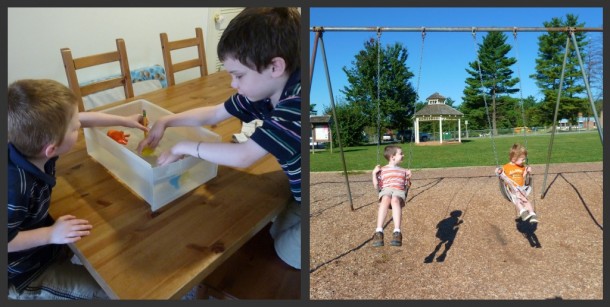 What is a typical day like for you?
Jean: We are up before the sun because Jaylen has never been a good sleeper, a common trait in kids on the spectrum. Both of my boys, Jaylen, who is 4 and Xavier, who is 2, have extreme amounts of energy that need to be released.
When it's nice out, we head to local parks, playgrounds, or beaches, where Jaylen does well until it's time to leave, when tantrums normally occur.
Favorite indoor activities include the children's museum, where we only venture into the water play area. The rest of the museum remains untouched because Jaylen has an obsession with water and Xavi is either happy to go along with it, or he honestly hasn't realized there is more to the museum.
The aquarium is also a hit unless there are school groups. Too many kids forces Jaylen into his anxious pose, both arms bent stiffly at the elbow and up high, with fists at the end and middle knuckles sticking out a little. He begins to stim (repetitive actions), flapping his arms and making a small moan sound every 2 seconds which may evolve into what sounds like whooping cough.
Jessica: A day in our life with Autism is not much different than a day in the life of any other household with a teenager. My daughter has some independent skills, but needs a great deal of assistance taking care of herself and staying on task. I get up with her, help her chose clothes that match, make sure everything is facing the right way, not inside out, fix her hair and make sure she follows her schedule for all of her self care tasks. She has check lists and schedules for pretty much every routine in her day.
Are your kids in school?
Sunday: The boys both attend a public schools in special classrooms designed specifically for children with Autism. Each classroom is limited to 5 students and often has 3 or more adults, in addition to the teacher, all aimed at keeping the students on task and engaged. Both boys also attend ESY (extended school year) programs, which means they go to school for 5 weeks during the summer months for half day sessions. ESY helps maintain a child's progress on their IEP and prevents regression of skills.
Jessica: Ashlyn attends a typical high school and spends half of her day in general education and the other half of her day in special education. Generally, evenings are really difficult for her. The stress of school tends to overwhelm her and by evening she does not have many coping skills left.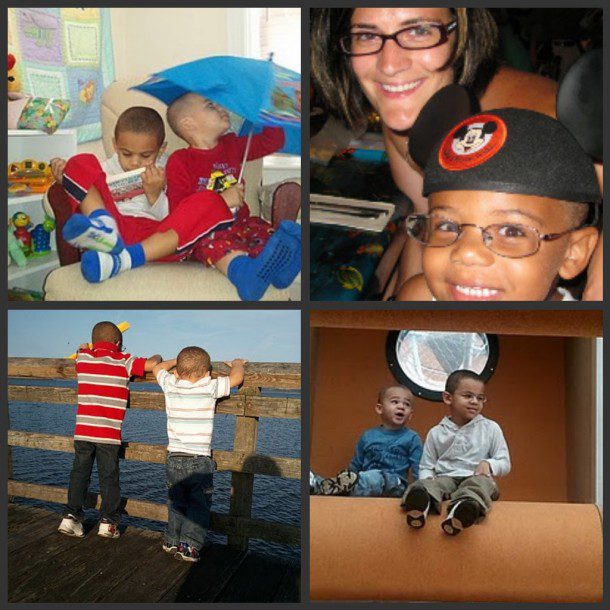 Is there a part of the day that is more challenging than others?
Jean: Evenings are tough because Jaylen is tired, overstimulated, and can't express his feelings well. He cries a lot and mostly replies "I don't know" when we ask him why. If I put everything else aside and give him my attention, we can have amazing moments during these times. This past month, there were two occasions where he spontaneously told me he loved me and came in for a hug. I cherish those rare moments and never take them for granted.
By the time both boys are in bed, I feel defeated, emotionally and physically drained. Some nights I actually yell, "Freedom" Mel Gibson style from Braveheart. I want to blog, work on my home business, or read, but usually find myself watching bad TV with a cup of tea or glass of wine.
Jessica: I spend nights juggling my younger children, trying to prevent meltdowns from Ashlyn while also helping her through homework, making sure her schedule is set for the next day and generally smoothing over whatever may be making her upset at the moment.
Ashlyn does not have the skills the rest of us do to process her day and react to life's ups and downs appropriately. There are bad days when we are all walking on pins and needles because you never really know what might upset her next, and then there are good days when she seems to tolerate change well and we all can enjoy each other so much more.
Tell us what is one of your biggest challenges in raising a child(ren) with Autism.
Sunday: I have found the most difficult aspects of raising children with Autism is in dealing with society at large and always feeling on guard to the looks, comments, and opinions of others who are not educated about what Autism is and what it is not. This is why the month of April as Autism Awareness Month is such a big deal to many of us.
I also struggle with the toileting needs of my boys. Both are still in diapers (at ages 8 and 6) and my many attempts to potty train have been met with varying degrees of failure. Noah has an especially difficult time due to his diagnosis of encopresis (or stool withholding). I hold out hope that someday my boys may be fully toilet trained, but for now it is not something I am willing to sacrifice my sanity (or theirs) over. Just like many of the milestones they have reached, they do it in their time and not mine. The important thing is they reached it.
Jessica: My biggest struggle is the never ending nature of Autism. It is hard to believe we have been dredging through this for 15 years.
We have gone through battling schools for appropriate placement, finding the right doctors and the right treatment approaches, searching for ways to calm her aggression and anxiety, looking for peers to help her feel included, the list goes on and on. And it is never over. Autism is never finished or fixed.
Now Ashlyn is heading towards adulthood and I can honestly say I have no idea what her future will hold. I hope that some day she can have a job, be self-sufficient and contribute to society in a way that makes her happy.
Right now, I can't imagine her doing things like driving a car or maintaining her temper in difficult situations without assistance, so I don't know what her life as an adult will look like. She might be able to get an A in Math, but she can't control her temper when we run out of mayonnaise or remember to turn off the stove.
Those are the things that worry me. The enormity of how Autism affects each and every moment of her life and ours can be exhausting. When I think of the years behind us and the years ahead, I wish for a break. Just a day, or a few hours, without the stress of Autism on my child. I wish she could walk through life without everything being so difficult, but there is no magic formula that can make that happen.
Ashlyn was diagnosed at a time when Autism was much less prevalent. She walked extremely late, she did not talk until she was four and all of her test scores indicated a grim future.
The life I thought was ahead of her was not remotely what it is today.
By the time she began kindergarten, she had a great vocabulary and began attending some general education classes.  Ashlyn has continued to prove everyone wrong ever since. Every year we meet to go over her progress and each and every year, she surpasses her goals. Her perseverance and determination never cease to amaze me.
What do you want people to know about Autism?
Sunday: I feel like the biggest lesson Autism has taught me is that life is not about "me". Its about our future, our children, and not making the mistake of trying to shape them to fit into the world, but rather to shape the world to embrace and accept them as a meaningful part of society.
I feel this is best accomplished through education and opening the minds and hearts of those around us to not just to the challenges of Autism…but to its potential.
Jean: I started my blog to spread awareness. Not awareness of how prevalent Autism has become, but to show people what Autism really is. Autism is hard and all we want is to be respected and understood. No matter how great we are as parents, how strict we are, or how many workshops we attend, we will not have children who appear neurotypical.
Having a child with an "invisible disability" is even harder when you have to deal with harsh looks, rude comments, and people muttering under their breath. If my guy is not stimming or in his awkward anxious pose, you may not realize he has Autism and just mistake him for a brat. Nothing makes me more comfortable than going to an Autism only event. You can feel the collective sigh of relief from every parent there as they look around and know their child is accepted. Our kids can have a tantrum, take off articles of clothes, yell at everyone, stim, and no one even bats an eye. It would change lives if life was the same when we left those events. So please, don't judge the next time you see a stressed parent with an out of control or screaming child, you have no idea what they are going through. It might even be me and my little guys.
One last note, if you have concerns about your child's development, do something now. No harm will be done by looking into whether or not your child needs extra help. But ignoring it can be extremely costly. My son's early intervention took him from a baby who was entirely in his own world to a high functioning boy with Autism. At Jaylen's initial evaluation at 16 months, he failed almost every task they asked of him and my husband and I had many excuses. Our biggest excuse was that we used different language at home. After we headed home with a PDD-NOS (pervasive developmental disorder-not otherwise specified) diagnosis, the word Autism, and cheeks covered in horrible running mascara, I did a little research and it was so obvious. As a former teacher, I knew about Autism, but had ignored it in my own son, somewhat subconsciously. Every checklist I found on the Internet and in print was basically a detailed description of my little man. I finally accepted, yes, YES, my son has Autism.