This post may contain affiliate links which may give us a commission at no additional cost to you. As an Amazon Associate we earn from qualifying purchases.
Earlier this week, Dr. Melissa began a discussion on pacifiers and babies with her first She Says, She Says post here on SITS. And what a discussion it was! Tons of you weighed in with your thoughts and shared your own experiences.
Today, Dr. Melissa is back and sharing her input. Read on to understand where this doctor and mother stands on pacifiers and babies.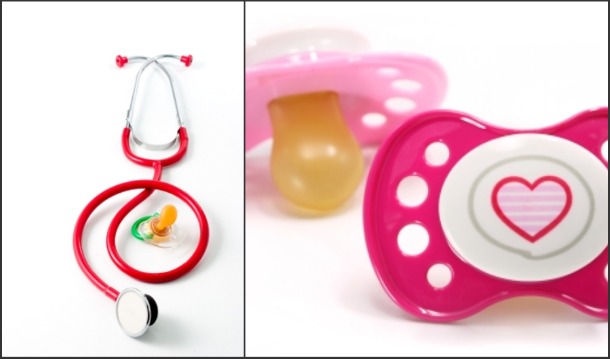 I loved reading all your comments regarding the pacifier…and thumb! Obviously, babies love to suck and some become quite enamored with that silicone soother.
I have to admit, at the start of my parenting journey, I was not a fan of the pacifier. I was conflicted about introducing one to my son. However, after more than a few difficult nights and naptimes, introducing the paci became the final icing on the cake to round out our bedtime ritual.
I have since become quite the pacifier fan. My daughter is currently in the throes of her paci love affair and we are nearing the day when she will have to say good-bye.
So, in a nutshell, here is how I feel about the pacifier: it is a potent soother, some babies love them, and some babies don't. It does not replace responding to our babies' needs but can provide non-nutritive sucking comfort. Yes, it can be habit forming, and yes, it is prudent to relegate the paci to nap and bedtime.
With all that being said, each baby and child is different. When and why to start weaning your child off the pacifier depends entirely on your child's unique situation and temperament.
I generally recommend weaning from the pacifier if a child is suffering from recurrent ear infections, has a speech delay or impediment, is the age of 4 or older, or is showing you signs that she is ready (i.e. chewing on it).
Most parents I encounter are worried about their child's teeth. As long as your child has kicked the binky habit by age 4, there should be no permanent jaw or tooth misalignment. What is most important is that your child is not walking around with a paci in his mouth all day.
So let's talk about weaning. Typically, toddlers weaned off the paci prior to the age of two will do so more readily. After the age of two, children become much more attached and more elaborate weaning techniques may need to be employed. Usually, a visit from the paci fairy or a special gift for being such a big boy will do the trick.
Follow your instincts and your child's lead on this one. My son was ready by age two. He started chewing on them and I told him it was broken now. He helped me throw them away and has been just fine ever since (he's six now). My daughter is three and is in love. She already knows the day is drawing near when the paci fairy will be visiting. In fact, she has a special gift request in mind.
I know it won't be easy for her…or me for that matter. However, we both realize our paci days are numbered. Just remember to involve your child in the good-bye process and most of all, enjoy your adorable tots. The days of the paci won't last forever.