This post may contain affiliate links which may give us a commission at no additional cost to you. As an Amazon Associate we earn from qualifying purchases.
Do you wish you could get your kids out the door each morning without any yelling (from you OR from them) that leaves you feeling frazzled? It CAN be done…. You just need a plan… or in this case- a morning routine! Having a clear morning routine allows everyone in the family to know what their responsibilities are and what is expected of them. And it allows you the possibility of starting your morning in a calm and relaxed manner!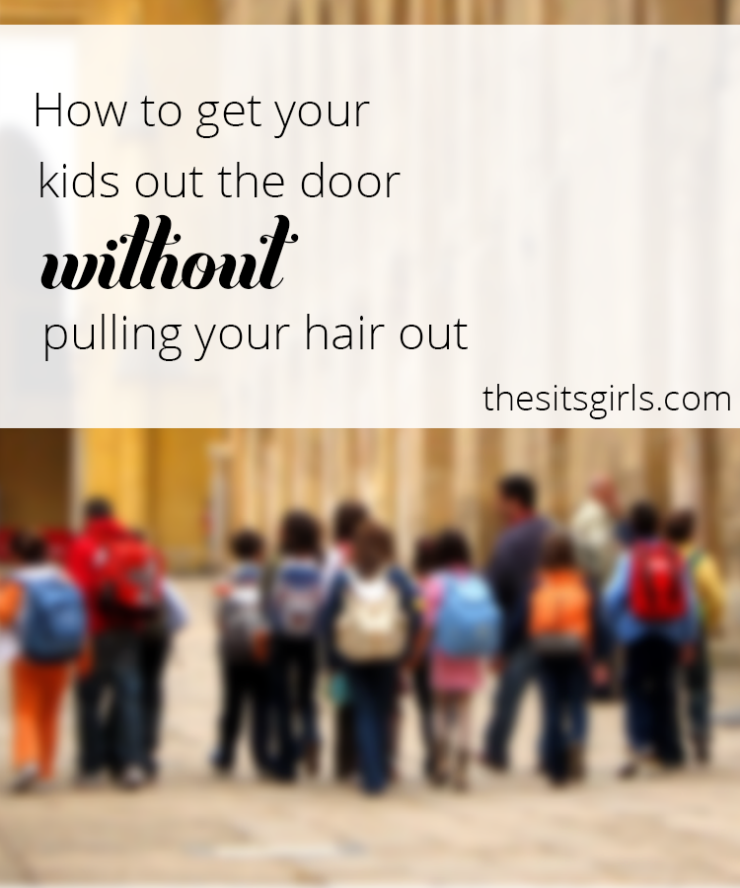 A Morning Routine To Get Your Kids Organized And Out The Door On Time
Map out a schedule, working backwards from your out-the-door deadline. I think the place to start when planning your morning routine, is to plan the time you need to exit the house, and work backwards from there. I personally prefer that my children ride the bus to school- it forces my kids to learn and respect the concept of "being on time" every day, which is a skill that will serve them well for the rest of their lives.
At our house, the bus comes at 8:25am, so I have set our goal to be in my car by 8:15am. We need to drive down the street to our bus stop, and I like to be at the stop 5 minutes early. I also plan 5 extra minutes of "cushion" – which we end up using almost every day to run back into the house to grab another sweatshirt, retrieve the forgotten backpack, etc.
Working backwards, I know that we need to have our breakfast completed by 8am, which gives us 15 minutes to brush teeth, comb hair, make one last trip to the bathroom, get shoes and coats on, and gather backpacks. And if we want to complete breakfast by 8am, the kids need to be downstairs, dressed, and at the table by 7:30am, and any hot food such as eggs, need to be made and served by no later than 7:45am. The kids need to finish eating, clear their plates and load them into the dishwasher by this 8am deadline.
Which makes our latest wake-up time 7:15am. And that is also the time when I need to have myself ready to focus just on the kids and on helping them along. I have found that mutli-tasking (getting myself dressed while trying to rouse my later sleepers and help the younger ones get dressed), just ramps up my stress level, and makes me less patient with my little sleepy-heads!
Keys To A Successful Morning Routine:
Put your own mask on first, before helping others. We've all heard these words before taking off on an airplane, and the same advice goes for us at home. As the Mom and leader of this family pack- I need take care of myself first in the morning before moving on to get everyone else ready. At a minimum, I absolutely must have a few moments to make myself a cup of tea, check my calendar to review the day, check my blog, and read my email- this is what I need for my own sanity. And I like to give myself some time to take care of anything that I might not have finished the night before (laying out the kids clothes, getting lunches and snacks ready, etc). So yes, this means that I need to get up early…. very early….. Most days I try to be out of bed by 5:45am. I do this because it is what works for me, and I am happiest when my home feels organized and I feel prepared for the day.
Set yourself up for less stress, and help your kids to be as self-sufficient as possible. At our house we lay out our clothes there the night before so in the morning the kids can just get themselves ready as they wake up. We have tried to make it a "house rule" that no one goes downstairs in the morning until they are dressed. We use two different bathrooms for teeth brushing (it speeds up the process), and each child has a tray in the vanity drawer with their own toothbrush, toothpaste, and floss- so that they can go right to their station and get ready. And each child has their own bin in the coat closet with just their shoes, so they can find their own shoes and put them on in the morning.
Make sure that everyone knows what is expected of them. For younger ones it might be helpful to start out with a picture-based checklist that they can follow until the routine becomes a habit. For older children who can read, a written checklist will work nicely. Once the kids know and are following their routine, you can eliminate the checklists.
And make sure you can check the clock- wherever you might be working. Since I have worked our morning routine around set "deadlines", I need to be able to keep one eye on the clock- which means having one in each room that we use in the morning to get ready. If I see that it is 8:05am, and we still have a few kids at the breakfast table, I know that I need to move them along. This school year, I even added a small battery powered clock to our bathroom so I can keep an eye on it while I am helping the younger ones brush their teeth. I also believe in having the kids set and use their own alarm clocks to wake them up in the morning (although in our house this only applies to my older children- my young ones all seem to spring out of bed waaaaaaaaaay before 7am!)
What is your best tip for getting kids out the door in the morning?
About the Author: Sharon
My name is Sharon and I am the busy Mom of six children ages 11, 9, 8, 7, 6, and 6. People often ask me "How do you do it?" I tell them that my key to success lies in planning ahead, with a whole lot of creativity and organization thrown in! Momof6 is the place where I share all of my tips and techniques to inspire you to tackle your own busy life! blog: www.momof6.com, facebook: SharonMomof6, twitter: @sharonmomof6