This post may contain affiliate links which may give us a commission at no additional cost to you. As an Amazon Associate we earn from qualifying purchases.
Jen is wrapping up our "Faces of Autism" Week on SITS by interviewing a special education teacher in the field. If you are just joining us, be sure you don't miss Part 1, What Does Autism Look Like? and Part 2, The Faces of Autism: Meet Three Moms and Their Kids. It is all part of our effort to further understand and support those affected by Autism.
One of the most important things in the treatment of Autism is early intervention and education.
Most children who have Autism are integrated into main stream schools, but go to a special classroom developed just for them.
Barb is a special education teacher for children on the Autism spectrum. She has taught for 11 years in a center-based program for kids on the spectrum with moderate to severe impairments. She has a Master's Degree in Special Education with endorsements in Autism and Emotional Impairments. Her classroom is in a general education building so that the students can have exposure to non-disabled peers.
She blogs about her life as a teacher and about her family as a mom of twins plus one at My Sweet Life.
Today, Barb is going to share a little bit about what Autism education is all about and give us a look into her classroom.
***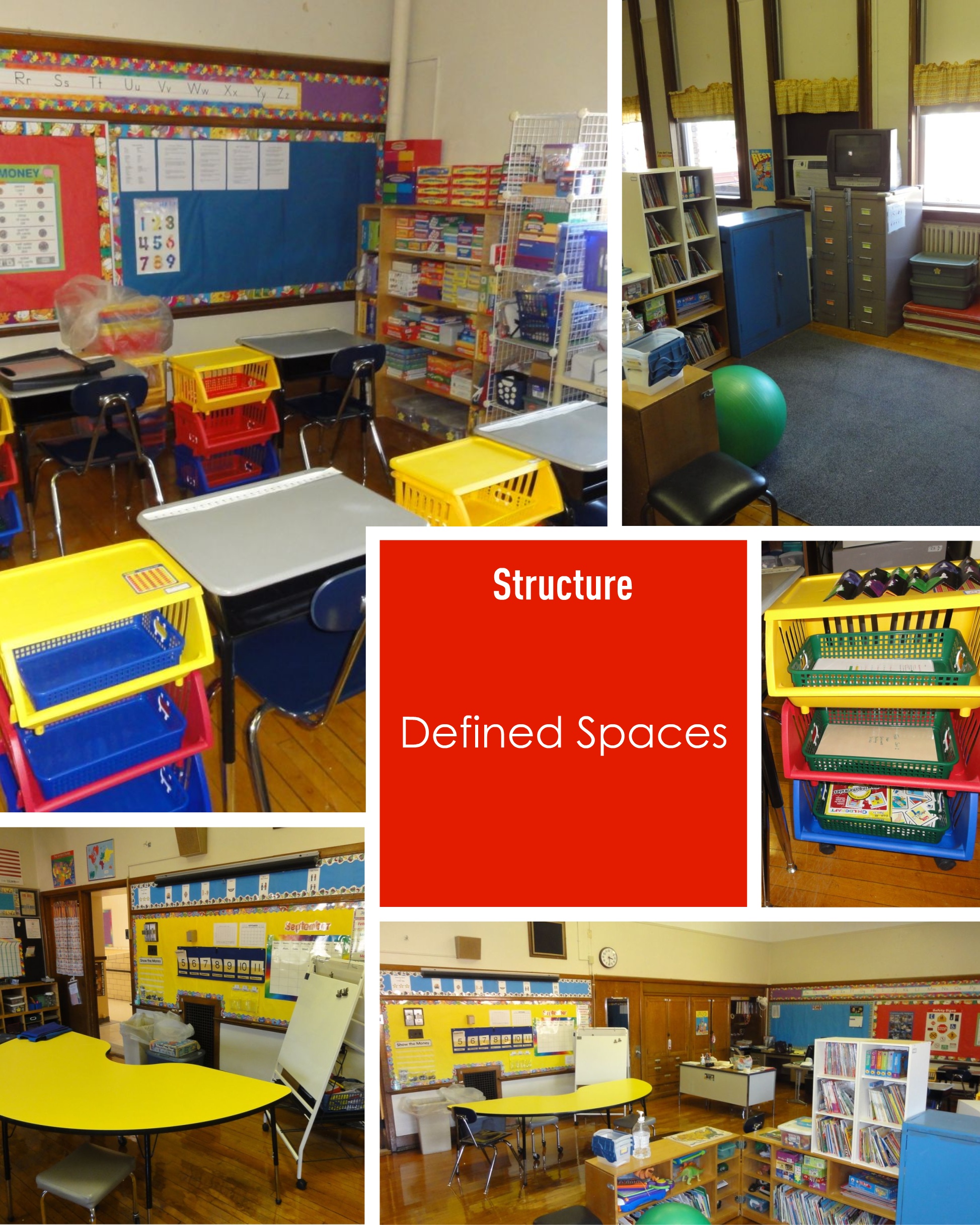 There's a saying I've heard many times that goes "If you've met one person with Autism, you've met ONE person with Autism." Autism is a Spectrum Disorder meaning that there is a wide range of abilities and needs. Individuals on the spectrum vary greatly in their cognitive functioning, language abilities, social skills, sensory needs, behavior and more.
With that understanding in mind, education for children with Autism may look different from one child to the next. Some children on the spectrum may function fine in a general education setting with minimal support. Other children may need more support from a special education program and others may need full support in a self-contained classroom for children with Autism that includes a low student-teacher ratio.
Special Education offers a wide range of services and this varies from state to state based on education laws. Any child who qualifies for special education services will have an Individualized Education Plan (IEP) that will document short and long term goals, services and accommodations each year. It is likely that no two child's IEPs will look the same.
Many programs for individuals with Autism Spectrum Disorder (ASD) focus on communication skills, social skills and life skills. Structure and routine, paired with visual strategies are very helpful in a classroom for children with ASD.
In my classroom, the key ingredient is Structure and Visual Cues. Our day to day routine is structured and consistent. Visual cues are present for everything from classroom rules, behavior expectations, school supplies, lunch and leisure choices. These visual cues also really help the children who are non-verbal. My main focus is on communication skills, appropriate behavior, life skills and basic functional academics.
By giving our environment structure and "Defined Spaces," it helps students better understand what is expected of them in each area. Our classroom has a group area, desk area, leisure area and teacher area. Students know that when we're all together at the group table, they should be listening to the staff and working cooperatively with their peers. When at their desks, they are expected to work more independently and be respectful of their peers while they work. The Leisure Area allows them space for down time, sensory integration and social skills.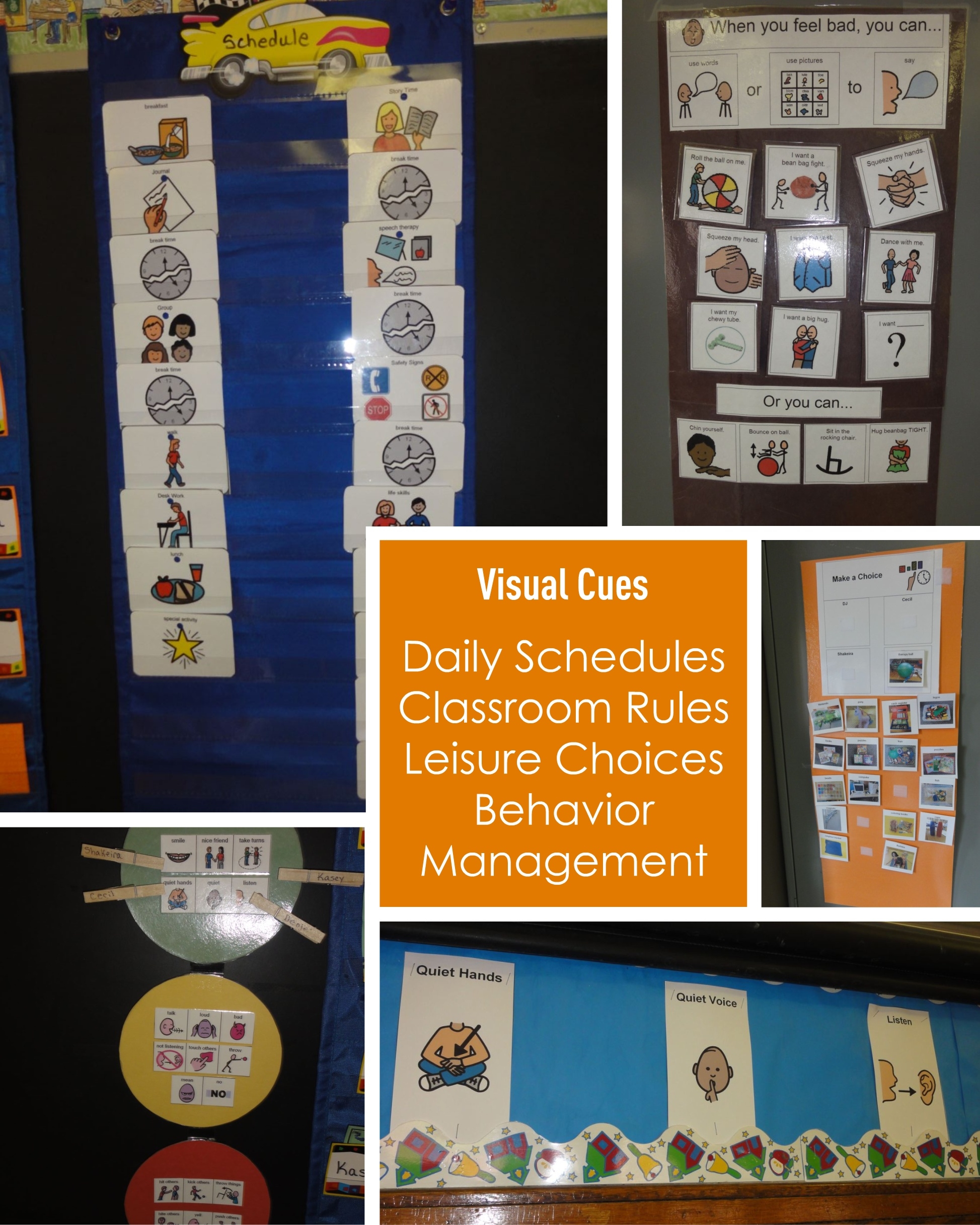 Our behavior management system is also well defined with visuals. We use a "stop light" to help them monitor their behavior (green = good, yellow = warning, red = poor choices). We give warnings and remind students to stick to "green" behaviors – which are represented with visual cues (i.e. listening, nice hands, quiet mouth, taking turns, etc). Yellow and Red also have visual cues to let them know what their behavior looks like at that level and remind them what to do to return to Green. We also have a star and reward system that allows them to earn prizes for their short and long term good behavior.
While we work on many things throughout our daily routine, we often work 1-on-1 with our students during their desk work time. This allows us to individually teach them the skills they are each working on, as well as practice and assess their skills. We work on a great deal of functional life skills including time, money, reading safety signs, menus and recipes. I use many 'home made' file folder activities tailored to their educational needs and many hands-on activities that help reinforce what they are learning.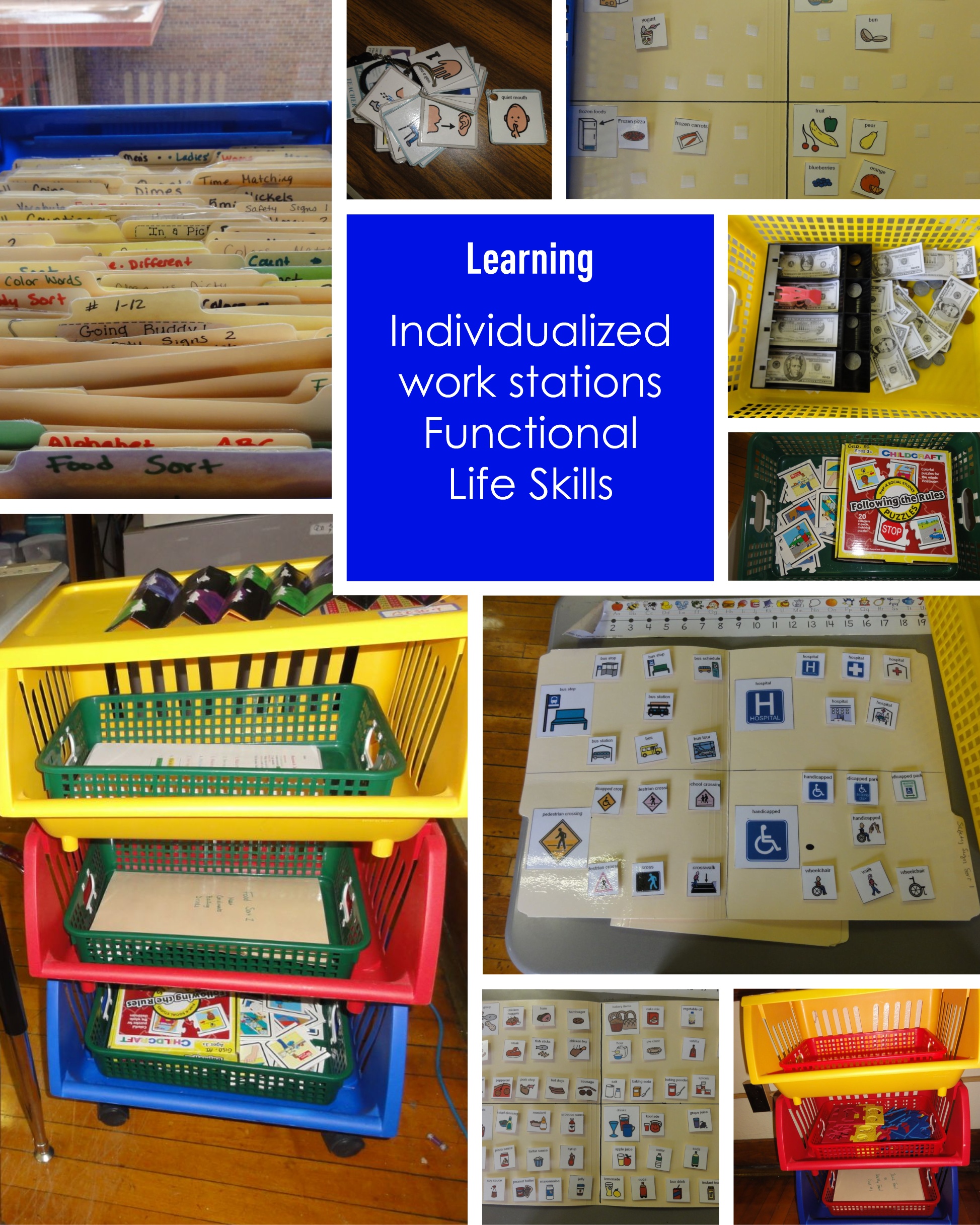 These are just a handful of the things that go into making our classroom work on a daily basis. As we get into the school year and the students learn the routine, things run very smoothly. Some students refer to the daily schedule throughout the day while others check in once or twice a day to make sure they know what's going on. We adapt to the students' needs as we move through the year and learn what is most effective for each student.
Students with Autism often receive support from speech therapists, occupational therapists, behavior specialists, and social workers. Other supports include adaptive physical education, music therapy, peer groups and community based instruction.
***
Thank you, Barb, for all you do and for this look into your classroom.
While there is no known cause or cure for Autism, there is a great deal of evidence that supports Early Intervention. Children should be screened by their pediatricians at an early age. Being aware of the early signs can help parents present their concerns to their child's doctor and receive the support their child can benefit from.
Birth to age 3 is such a critical time in a child's development and with a system of support and early intervention, a child diagnosed with Autism can make many positive gains.
Some helpful resources to learn about your child's development, early indicators of Autism and more about the Autism Spectrum Disorder can be found at First Signs and The Autism Society of America.