This post may contain affiliate links which may give us a commission at no additional cost to you. As an Amazon Associate we earn from qualifying purchases.
Just before Christmas, a coworker returned from a lunch trip to Kmart to tell me the Valentine's Day candy had already been set out. You know, so single girls everywhere could get a few extra months of wallowing in their own sadness first.
I've been on both ends of the spectrum for the dreaded V-day, (single and in a relationship), and I have to say, I'm just not a fan. And the fact that it's the final holiday in a string of events targeted by retailers as a time to be with the one you love is grossly unfair. What if you've turned over every stone and Prince Charming is nowhere to be found? Why can't you feel good about your single girl status on Valentine's Day (or any other holiday, for that matter) by spending it with your friends, family members, or other loved ones?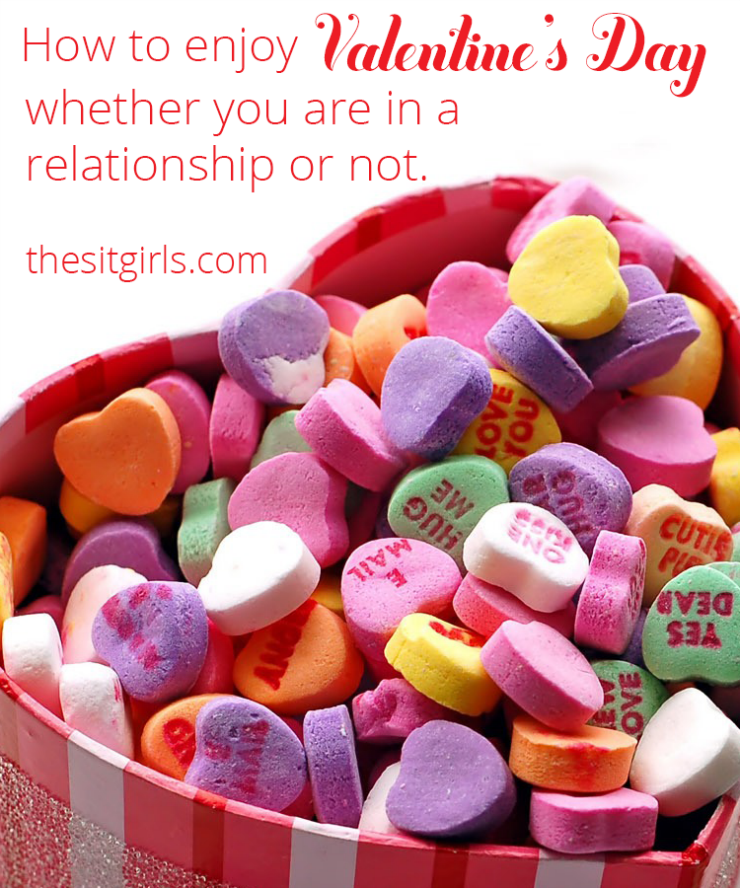 Enjoying Valentine's Day If You're Single
Do not sit home and mope
Round up your girlfriends, hit up a happy hour, and check out the available men in your area. Even if you're just slinging back a few with your friends, you won't feel like obsessively checking your ex's Facebook wall and watching schmaltzy movies on the Hallmark channel. I have never done either of these things.
Create your own happy
On one particular Valentine's Day a few years ago, I was at a restaurant with about 10 girls and we giggled at the uncomfortable outfits girls wore on dates and felt bad for the bored glances that were exchanged between couples. Think about this as you're laughing it up with your friends. Not every couple out that night is perfectly happy in their relationship. But you can always create happiness doing whatever you love.
Do not call your ex
I touched on this briefly in #1 but I can't stress it enough. There's a reason you aren't together anymore and the 14th is a terrible time to call and try to make amends. 'Nuff said.
Do something nice for yourself
Get a mani, splurge on a massage, treat yourself to a delicious dinner… But most importantly, remind yourself of all your wonderful qualities and remember that you deserve the best.
And what if you're like me and you just don't like the holiday? Maybe you have a new boyfriend and don't want to put the pressure on (because, lets face it–it just never lives up to the hype/expectations, right?).
I'll never forget the year my ex decided to take me to the Bronx Zoo (which may have something to do with my aversion to the holiday). We had been together for a few years and I was hoping for something romantic and intimate. For whatever reason, we weren't able to go on Valentine's Day itself so we went the weekend before to see their special mating season event. Clearly neither one of us read the fine print so we stared aghast as the males pranced in front of the cages of the female species, giving sex eyes and getting ready to pounce. Apparently they reunite the males and females on Valentine's Day. I should also add that it was about 20 degrees out that day and we got in a fight on the way home about something or other. It was about as romantic as it sounds and I hope I've spared you of a similar experience this year.
Enjoying Valentine's Day If You're In A Relationship
Do not apply pressure on your significant other
Chances are he has heard about this holiday and he wants to impress you. Be appreciative of his efforts and don't make him feel bad if he didn't secure a reservation at the newest hot spot in town. You don't want to eat there on Valentine's Day anyway. You know they just turn tables that night, right?
Don't tell your significant other about what your friends' significant others are doing to celebrate
It won't make either of you feel any better and it'll set a terrible tone for the rest of the evening. Huge no-no.
Think about what this holiday truly means
Take away the heart-shaped boxes, the roses, and the jewelry. In the end, really none of that matters. This is a day to celebrate together and should be like any other day of the year. Treat each other with kindness, love, and respect. Pull out a board game. Watch your favorite movie together. Make a toast to good health, happiness, and love.
Because regardless of whether or not you're single, these are the most important things in life.
Happy Valentine's Day to you all.
Looking For Health and Wellness Tips?
You do not want to miss these posts:
About the Author: My Pixie Blog
My Pixie Blog details my journey through heartbreak and self discovery. Walking away from the one person who knew me better than anyone else in this world was the hardest thing I have ever had to do but I wanted to chronicle the highs and lows of my breakup in written word. I now embark on a new journey with a fresh outlook on life and love and a wonderful new man to celebrate it all with. Like me on Facebook or follow me on Twitter.