This post may contain affiliate links which may give us a commission at no additional cost to you. As an Amazon Associate we earn from qualifying purchases.
When Jen, our health expert from Buried with Children, came up with the idea to dedicate a week of posts on SITS to Autism Awareness, I didn't hesitate. "Absolutely", I replied. Providing a platform for women to tell their stories so that we might all learn from one another is exactly why our website exists. After reading today's post, I couldn't be happier that we are doing this.
This post is Part 1 of a three post series.  Be sure to catch Part 2, The Faces of Autism: Meet Three Moms and Their Kids, and Part 3, Understanding Autism in the Classroom, too.

Autism.
It is a word that means a lot of different things to different people. For some, it's just a word that they have heard and have no idea what it means. For others, it is something that they face each and every day. It's their way of life.
To be honest, even though I am a registered nurse and a mother, I am in the group for which autism is just a word. It's a topic I know very little about.
I can Google the word 'autism' and get a ton of information and a definition.. "Autism is a developmental disorder that appears in the first 3 years of life, and affects the brain's normal development of social and communication skills."
But what does that really mean? What is it like to live with Autism? What does Autism look like?
Because April is Autism Awareness month, we are dedicating this week on SITS to making us all a bit more aware. Our goal is to give autism a "face" by sharing the stories and experiences from the women in our community. I have really become enlightened in doing research for this project and I hope you will too.
Today, Amanda from Life is a Spectrum is sharing what autism looks like in her family.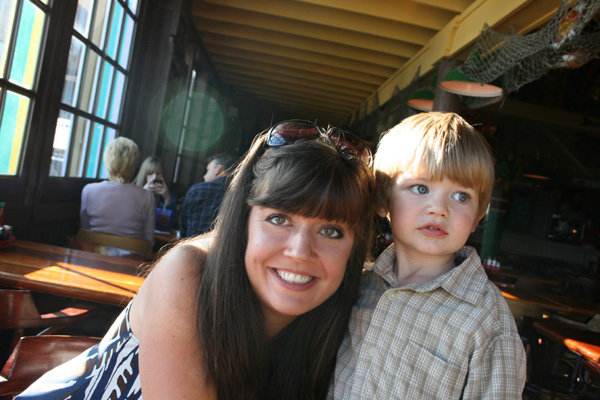 What does Autism LOOK like?
Over a year ago, I was sitting in the lobby of one of Billy's therapies when a well-meaning grandmother of another child remarked about Billy, "He's such a beautiful child. It must make it easier that he doesn't look disabled."
At the time that she said that, Billy had his nose stuck down on the fake potting soil of the fake house plant in the lobby and was singing something to the plastic tree. I don't know what that looked like to her, but that's what autism looks like in our house.
But I get her point. Those of us with loved ones on the spectrum develop a finely tuned "A-dar," as we call our ability to identify other kids on the spectrum. But I'll grant you that, especially these days, there are a lot of times when we are out in public when I suppose Billy can "pass" as "normal," if that's how you want to look at it.
And that used to be important to me. Not so much any more.
Very early on, it would embarrass me when Billy would crawl under the table of the booth at Beef O'Brady's and want to eat his grilled cheese there.
But eventually, I figured out that he likes sitting flush with the glass wall, his cheek pressed against the glass while he watches the lights of the cars in the parking lot. When I finally got down there with him and looked at it from his perspective, I thought, "You know, it is kind of beautiful."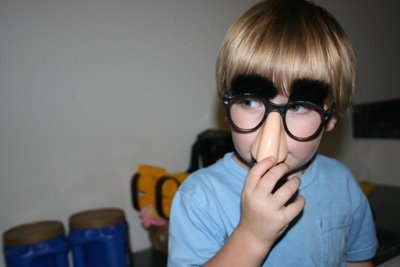 Also, I've had the opportunity to explain to the wait staff at the restaurant that he is autistic and why he likes to sit down there. At first, they were surprised to find out he's ASD. Then, they sort of shrugged and rolled with it. They always remember his favorite meal, give him a bright smile and never raise an eyebrow when he disappears under the table with his cheese sandwich.
There are times when I wish we had a sign. For instance, when there's a meltdown in a public place, I'd like a sign that reads, "Sensory overload in progress: Please don't touch me or talk to me." And that would just be the sign that I wore.
In those instances, there are always a few people casting scowling glances, as though the problem is just one of discipline. Those are usually the same people that wish human beings would just spring from the womb already aged 30-ish, so that their dinners/shopping experiences/serenity are never interrupted by the sound of childish squeals.
Some people just stare. Maybe they want to help. Maybe they feel like they should do something. (FYI, if you meet me in the middle of a Billy meltdown, I'd appreciate it if you'd catch him if he runs toward you; otherwise, feel free to go about your day and ignore us completely.)
Thankfully, meltdowns are few and far between these days. We go out to eat as a family, take Billy to the grocery store, to Disney World, to the beach. Sure, we hit a few speed bumps along the way, but in most instances, our perspective has changed from "How can we make Billy more 'normal?'" to "How can we support him to succeed in a world that really isn't set up for autistic people?"
Is it easier for us because Billy doesn't exhibit a profound physical sign of his special need, as a child in a wheelchair or with Down's Syndrome does? I don't know. I haven't been the parent of a child with those challenges. I can only guess that there are days when, like me, they think every other parent has it easier. But even on those days, I'll bet when they look at their child, they know that they've never seen anything more beautiful.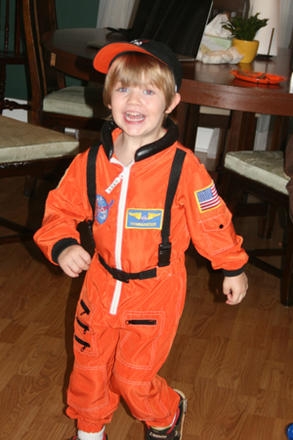 What autism looks like is really immaterial. What's more important to me is what Billy sees when he looks at the rest of the world. Because from where I'm sitting, looking at him right now, things are looking pretty good.
Amanda Broadfoot is a freelance writer, wife, and mother of two who blogs about the wild, wacky, challenging, beautiful life on the spectrum at http://www.LifeIsASpectrum.com.