This post may contain affiliate links which may give us a commission at no additional cost to you. As an Amazon Associate we earn from qualifying purchases.
One of the most exciting adventures you can get into in the world of blogging is to take the opportunity to meet your online friends in real life. The best place to do something like that is to head to a blog conference.
They're loads of fun, extremely informative and just an all-around incredible experience.
Now, if you're like me, you're going to be pacing the floors as you try to pack everything into your little suitcase. Because, well, it should be little, right? You're only going away for a few days – what do you actually need to pack for a blog conference?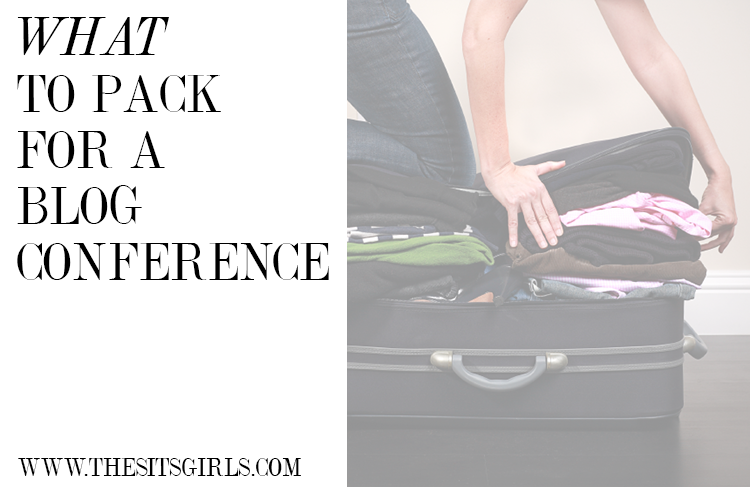 What To Pack For A Blog Conference
I'm going to start with some really important items. You could forget almost everything else and buy it wherever you're headed. Except for these items.
Blogger Business Cards
You need to have business cards. You need to have them to give other bloggers, and you definitely need to have them to give to brand representatives.
It may seem really weird, especially if this is your first conference. You might think you're just a blogger and do bloggers really have business cards? They're not like business people – are they?
Yes. They absolutely are. YOU absolutely are.
So be sure you get some. I don't care exactly how many you bring with you – but take a look at the number of people attending the conference and figure at least half that plus one or two for each sponsor attending. And up that number if you need to. You'll be happy to have extras on-hand.
I've gone to events and conferences where I gave out less than expected, but I've been fortunate enough to never run out. I've had bloggers say that to me. And I'll be honest, unless I knew them beforehand? I probably don't remember who they were.
We've got some great business card tips for you, ranging from what you need on your cards, to the best way to manage the cards of the bloggers and brands you meet.
Media Kit
Along with your cards you might consider bringing some copies of your media kit with you to give to the sponsors that you meet. They're certainly not required, but you'll come across as well prepared should you have one! Don't have one? Don't worry.
We have all the information you need on what should be included in your media kits, and we follow that up with a straightforward tutorial on how to create your own media kit using PicMonkey. And if you can't get one done in time, it's fine. Just bookmark these pages for future reference, because eventually you're going to want to make one.
What to Wear
Let's talk clothes. You can't go to a blog conference without bringing clothes. We know you're excited to be away from home and out on the town. You're ready to dazzle! You might even wear some funky jewelry and a pair of heels. And that's great. But please, please, don't forget about being comfortable.
There are three C's to conference attire, and to me, comfy is the most important one. Cute and casual are the other two, and I would say they're a given. You know you want to look cute. You want to look professional enough, so that you feel somewhat on the ball. But don't forget to dress comfortably. If you don't wear heels regularly, your feet might be aching by the end of the day.
And if your feet hurt, you know the rest of you is going to hurt, too. Your blogging friends don't want you to be uncomfortable. And they want to see you for who you are. So pull out that favorite sweater (and yes, even if it's 100 degrees wherever you're headed, bring a sweater. Conference rooms can be chilly!), and a comfy pair of flats, and bring them along. You'll be much more relaxed when you're dressed as yourself. And the people you meet will be, too.
Electronic Essentials
You want to be sure to bring all of your chargers for all of your electronic devices. It sounds obvious, but remember how many you're packing and take note. You are probably going to want to add a power strip to that list. A power strip will not only ensure that you AND your roommates can charge your devices overnight, but will guarantee you make some friends during the sessions. Everyone wants to sit next to the girl with the juice! Many a friendship has been made over shared outlets. Your power strip will save you, and your new friends.
Check out our Packing List Essentials for a few other critical items you won't want to forget.blo
Most important: Engagement
Now, you're all packed. You've got your preferable method of note-taking (electronic? pen and paper? whatever you're most comfortable with!) at the ready, and you're feeling bright-eyed and ready to learn. Toss a few extra snacks, a bottle of water and some mints or gum into your bag. Sessions can be intense, and you might need a little power snack to keep you focused. Bring extra so you can share – it's a great way to make new friends.
And most importantly? Bring a great attitude. Be ready to learn. Act like a sponge, and take it all in. Don't rule anyone out. The blogger next to you whom you've never heard of? Might be the connection you need to figure out where you're headed on this journey.
Even better? You might become fast friends. Don't be shy. Use social media to your advantage. Tweet at your fellow attendees. Find out who is sitting at the table behind you. Connect. Learn. Grow. And have a great time.
Your Turn
Did we miss anything? What packing tips do you have for someone attending a blog conference?
Keep Reading
Looking for more information about blog conferences, and if they are really right for you? Here are a few posts you'll find helpful: