This post may contain affiliate links which may give us a commission at no additional cost to you. As an Amazon Associate we earn from qualifying purchases.
It's blog conference season! And in order to make you as successful as possible, we're sharing our four amazing secrets to success for when you decide to spend the time, and the money, on attending a blog conference.
The months between April and November are packed with offerings for bloggers looking to take their work to the next level, from The SITS Girls Bloggy Boot camps to SheCon to Type A Parents to BlogHer, and everything in between.
Blog Conferences: 4 Secrets to Success You Need to Know
The time and money spent to attend conferences can pay huge dividends for bloggers, in new contacts and new ideas. But it helps to be prepared. Taking a page from the years I put into attending blog conferences in the corporate work world, I've put together some pointers on how to maximize the value of your attendance.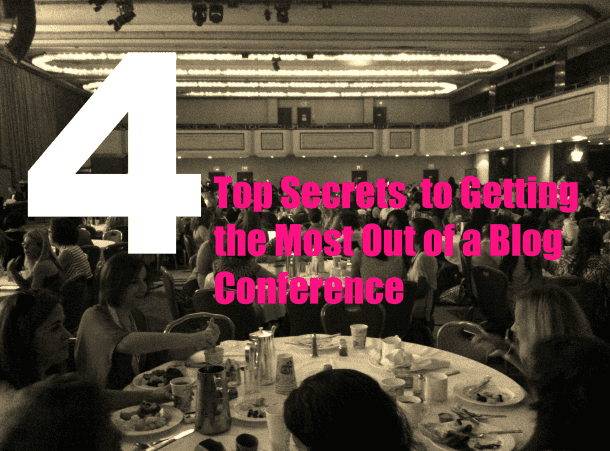 1. Have a few clear goals in mind before you leave for a blog conference
The social aspects of attending conferences cannot be understated – after all, who else understands your compulsive need to check for comments on your latest post like your fellow blog attendees? But if you're flying a few hundred or thousand miles and paying for a hotel, you owe it to yourself to bring a few concrete ideas back too.
What are the blog problems that vex you: how to grow your readership, how to integrate more multimedia, how to play nicely with sponsors? By choosing two or three of these on which to focus, you can more easily pick your way through a crowded conference agenda, in order to focus on the sessions that will give you some practical information to take back home.
By the way, even with your goals in mind, never underestimate the power of serendipity. If there's a session that calls your name but seems to have nothing to do with your blog, don't be afraid to check it out. You never know where the a-ha moment will arise.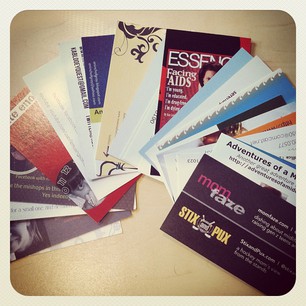 2. Print as many cards as you think you can ever need, times two
You do not want to be the conference goer reduced to scrabbling your name and URL onto a corner of a napkin during the afternoon of Day 2. You'll want to exchange them with the people sitting near you in the sessions who asked the question you needed answered, drop them into bowls to win cool prizes, and press them into the hands of conference sponsors. And if you have some cards left over at the end of the conference, who cares? All the more reason to hand those out at home.
3. Annotate the cards you collect, as soon as you can
As the stash of your own cards dwindles you'll find it replenished with the cards of those you meet – including that one woman who told you how she started podcasting, what was her name again, I think her blog had the word "Mom" in it, she had dark hair…you see the problem. You'll be meeting so many people and having so many interesting conversations that writing a few quick notes on the back of each card – "has a podcast, recommended a book on writing, lives in Houston, met at BBC" may be the only way you'll ever be able to reach out and follow up again.
The longer you wait to write it, the more likely you'll forget something. I try to scribble something on there when I'm collapsed on the bed back in the hotel room, wondering how the day went so fast. One of the best cards I ever got was from Cindy at ElephantSoap.com. It had a darling picture of her, all her contact details, and the best part, in big block print: "You met me at BlogHer '11!" Genius.
4. Sort cards and prioritize follow up as soon as you get home from your blog conference
Do not succumb to the jumbled pile of cards that lives on the corner of your desk forever, or the notebook filled with great ideas from the conference that you never reread. Sort them into categories: "Blogs that take guest posts," "Blogs to add to RSS feed," "Bloggers who published eBooks," "Writing prompts," maybe? Or just Hot, Warm, and Cold based on how each person can help you meet the goals you set in step 1?
If the session you attended on working with sponsors reminds you that you have to update your About page, pronto, and send out a follow up query to a couple of vendors you met, then put those on the to-do list with a due date. You learned so much: don't let the next steps slip through the cracks.
Finally, if there is but one piece of advice that I can implore you to take: wear comfortable shoes. No one is winning prizes for footwear at these shows, and you will be much cheerier if you are not going through a box of band aids in your hotel room each night.
I promise.
About the Author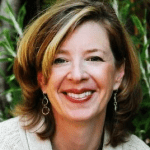 Nancy Davis Kho writes about the years between being hip and breaking one at Midlife Mixtape Thanks to General Admission concert venues, she knows from comfortable shoes. Find her on Facebook at https://www.facebook.com/MidlifeMixtape and on Twitter @midlifemixtape.
Put Your New Skills to Use at the Bloggy Boot Camp Chicago Blog Conference!
The Bloggy Boot Camp tour will be making a stop in Chicago this year, hosting a "Brand Edition" of the regular conference. Some of the biggest names in blogging will be on hand to discuss topics such as professional branding, public relations tactics and other blog-as-a-business focused themes. Aside from the natural benefits of mingling with the very best in your niche, Bloggy Boot Camp promises to help shape you into a better blogger, giving you the tools and ideas that you need to take your success into the future.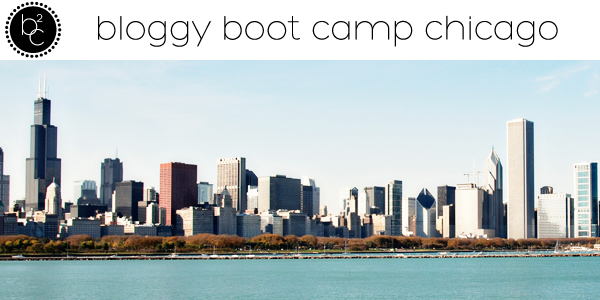 Learn more about the conference here now!