This post may contain affiliate links which may give us a commission at no additional cost to you. As an Amazon Associate we earn from qualifying purchases.
One question, I get asked quite often from bloggers, is what I think about their overall blog design. It is not a secret that I run a blog/website design company, so I field this question a lot.
Most people ask, because they are making sure their blog design, and the way they have set up their sites, is attracting the most amount of views possible. This topic is even more hot with Google's recent changes to how they rank blogs in their search engine.
See, when Google changes something like search engine rankings, bloggers and website owners alike panic. Rightfully so, because no one wants to get buried in search engines, especially Google's.
So, check out now, what 8 design elements you should be including in your own blog, for your readers and for Google, too.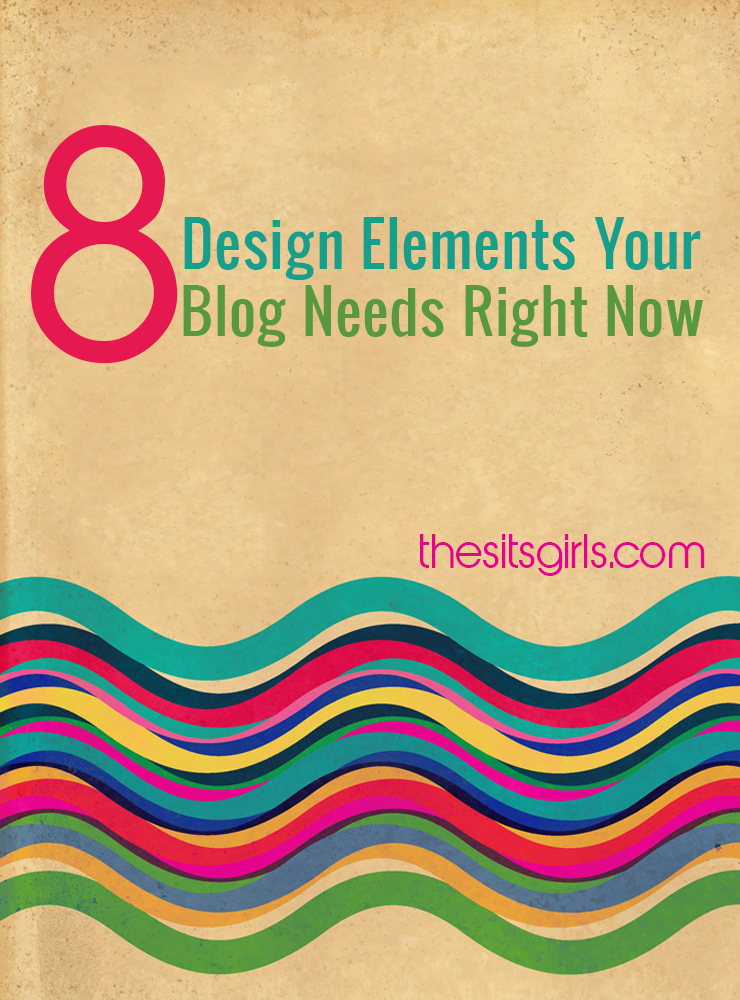 8 Design Elements Your Blog Needs Right Now
1. Mobile Responsive Design That Incorporates Your Logo/Header
This by far is the most important aspect in my eyes when I design sites for clients now, because as I said above Google is now actually penalizing websites and/or blogs for not being mobile friendly/responsive as of April 21st.  Outside of Google, to be quite honest, most people I know (myself included) surf the web, interact on social media, and even read blogs on their mobile devices. This is the trend now, and if your blog is not able to be accessed easily from a mobile device, such as a smartphone or tablet, you are most likely losing readers and potential followers.
If you aren't sure if your site is mobile friendly, you can try Google's Mobile-Friendly Test, here. You also want to make sure that your logo is unique, but fits with these guidelines, too. Trust me, this is just common sense, and something you will want to make sure that you have set up sooner rather than later now for Google, as well as your current and potential readers.
2. Commenting System That Engages All Readers
Commenting, in blogging, is huge, and even pretty much king! In order to build up your blog's following, you should most definitely connect with other like minded bloggers. One of the best ways to do this is through commenting on their blogs, and having a place for them to reciprocate the comment on yours, as well.
I have heard of a few bloggers who turned commenting off. To be honest, I don't get that one bit, because commenting truly is a life line for bloggers and helps not only to connect with current and new readers, but is also a valuable asset to have in your blog design.
If you are on WordPress (self-hosted), you can have WordPress comments with Akismet installed, which obliterates most spam completely. If you are on Blogger (Blogspot,) I know many use either Google+ Comments or Disqus, which is a great alternative.
But again, whichever commenting system you use, just remember commenting is truly a wonderful way to keep current with your readers and should be included in your blog design.
3. Social Media Follow Buttons/Share Buttons
Just as commenting helps to keep you in touch with your readers, so does social media. For that reason, I am a firm believer that your social media buttons should be somewhere that can be easily found on your blog. Some have them in their header, others have them in their sidebar, and still others have them included at the end of their posts. This is truly subjective and depends on what works for you and your readers, but you should always have them included and easy to find.
Along with your social follow buttons, I also believe social share buttons should be included in each and every article you post, because this is also a way to get your blog writing shared with current social media followers, as well as new. Both WordPress and Blogger allow for you to include their pre-packaged share buttons, which to me are awesome on both platforms.
There are outside plugins, but I honestly think the two big platforms pre-made share buttons are pretty much capable of sharing on all social networks. The one caveat being that you should make sure you have both your Facebook and Twitter linked to your blog, so that when someone shares your post, you will know it.
Nothing is worse then someone tweeting your article and your Twitter handle isn't included.  If you are on WordPress, it is pretty easy to link your Twitter (and other social media accounts), but Blogger can be a bit more difficult.  If you aren't sure how to set that you, you can find a tutorial here.
4. Subscription Widget to Increase Subscribers
Along with making sure to to have your blog article shared socially, you want to make sure to build up your subscriptions to your blog. Again, both major blogging platforms, WordPress and Blogger alike, allow you to use their own subscriptions that are free of charge.
Self-hosted WordPress allows for a bit more in this area, though, with the use of plugins. See, sometimes, you may want to send newsletters to your readers with more personalized updates, too.  This is where a subscription service like Mad Mimi or MailChimp, which can utilize a plugin to handle incoming subscriptions beautifully, comes in handy. If you have seen the pop-up subscription widgets or the top header roll-over subscription opt-in on other blogs, then you know what I am talking about, but if you haven't trust me when I say these are truly a must have if you are blogging with self-hosted WordPress. It really does help gain more subscribers, as well as keep track of subscribers and allowing you to send out those jazzy newsletters, too.
Again, an easily accessible way for readers to sign up for blog posts and updates from you is a crucial design element you want to make sure you have in your blog design.
5. Blogger Bio to Give Readers A Better Feel for Your Blog
If you don't have any other stand alone pages on your blog, you should have an About Me page to share with your readers and perspective readers about you and your blog.
When you land on a new site, most times, you probably want to know more about the site you have found. Well, the About Me page is perfect for this. If you would like to know what to include in your About Me page, then check out more here to give you a better idea how to set up a killer About Me page for all your readers.
6. Eye Catching and Appropriate Images
Most blogs that are successful include some sort of eye catching images in their articles and site. Don't get me wrong, you should have strong writing and decent grammar usage, but photos also make a difference.
Whether they are your own pictures, images you have paid for the right to use through the likes of iStock, or free creative commons photos, the images you use should be appropriate for your article content and also be able to be shared easily through social media. They should be optimized for Pinterest.
You want to make sure your images (and text too) are copyright protected, and your images are watermarked, because all your hard work should not be easily copied.
7. Search Box to Help Readers Search Your Blog Archives
This is a no brainer. You write all this great content, but if you don't have a search bar somewhere on your amazing blog, then past article content cannot be searched out or found on your own site. To me, a search bar is truly a great asset and benefit in your blog design.
8. Ads to Help You Make Some Money Blogging
If you are at all trying to make a few bucks from your blog, then ads should be included somewhere in your design. Ads will help to bring in residual income when others visit your blog.
Whether, you are using Google Adsense, Amazon, or other affiliate networks, you will want to make sure your ads are in the right place on your blog. Placing your ads above the fold (meaning visible before you begin to scroll – even for one ad) can make a huge difference.
There you have it. All the basic blog elements that you should try to incorporate into your own blog.
Looking for more blog design advice?
Check these five blog design video tutorials to help you spruce up your blog.