This post may contain affiliate links which may give us a commission at no additional cost to you. As an Amazon Associate we earn from qualifying purchases.
Please join me in welcoming Sarah Maizes to The SITS Girls today. Sarah redefines a Woman On the Move as she juggles being an author, mom, blogger, and all of the other hats she wears. She is stopping by today not only to entertain us with her thoughts on the minivan, but also to show off her hilariously funny book where she takes a derogatory term, turns it on its head, and takes it in a positive direction.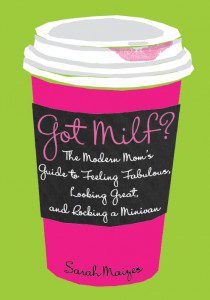 Motherhood is a full-time job.
And like many full time jobs, it even has it's own"company car" – the minivan.
Our minivans (or SUVs) become the mobile family office.  A place of business where we transport tots from school to soccer, tutoring to dance, and playdate to playdate, (…to playdate…to playdate…). Kids flow in and out of our automatic doors all daylong like nickels in a Vegas slot machine until JACKPOT!  The last child at the final stop tumbles out the door at the end of the day – overused…and a little sticky.
In between activities, we occupy them with DVD's, music, and ply them with snacks that invariably wedge themselves in between the seat cushions and leave our "office" smelling like old shoes.
There is no question about it…our minivan's aren't always pretty. But you don't have to let this cramp your style. You are one chic mama!  And with a few helpful hints you can Rock your Minivan like the hot mom you are!
5 Ways to Rock Your Minivan
Get A Carwash
It's really hard to feel fabulous when all you smell is old snacks.  And, while this may sound silly, just like how you feel fresher when YOU shower, you'll feel better pulling up in a car that doesn't have "WASH ME!" written into the grime on your rear window.   Show a little Minivan Pride!
Music
Take out that Elmo CD and pop in your own playlist.  Driving around with your own "soundtrack" will amp up your mood and just plain make you feel good.  Your kids will have so much fun watching you groove they'll probably join in!  Here's a sample playlist with some of my driving faves (and you don't even have to look for the "clean" version on iTunes either):
"The Rhythm of Love" by Plain White T's
"Uncharted" by Sara Bareilles
"Edge of Glory" by Lada Gaga
"Take Me or Leave Me" Glee Cast Version
"Forget You" by Glee Cast Version
"I'm Yours" byJason Mraz
"Something Special" by Colbie Caillat
"Lucky (Feat. Colbie Caillat) by Jason Mraz
"Pink Cadillac"by Natalie Cole
"RESPECT" by Aretha Franklin
Sound System
What good is great music if it doesn't sound…well…great?! Stereo upgrades are available to help enhance the sound of the small speakers in your car.  A beautiful sound system lets you all really enjoy the music!  (I can't say how your kids will feel about it when you are singing along…)
Avoid Adornments With Suction Cups
Steer clear (pun intended) of any decoration that suction cups to your windows.  Yes, even if it's a "Baby on Board" sign.  Seriously, you're driving a minivan, don't you think that's already pretty obvious?
Attitude
At the end of the day you're the one in the driver's seat – literally and figuratively.  How you feel about yourself shows.  Don't step out of your minivan hiding your adorable selfin sweatpants (unless you were JUST at the gym), mom jeans or (and I've actually done this too…) pajamas.  Do yourself (and your minivan) a favor – shower.  And put on clothes that make you feel good about yourself.  I'm not talking about dressing up (who has the time?).  But looking like you feel good about yourself goes a LONG way toward making you and that minivan look good!
Remember, attitude is always the best accessory!
About the Author:

Sarah Maizes is a humor blogger, a freelance writer, comedian, and the author of Got Milf? The Modern Mom's Guide to Feeling Fabulous, Looking Great and Rocking a Minivan from Berkley Books. (Check out her HILARIOUS book trailer at here). You can follow her daily musings at MommyLITEonline.com (a parenting humor site), and on Facebook, where she has two pages: Parenting Humor for Moms and Dads With Short Attention Spans and Got Milf? A Humor Book.