This post may contain affiliate links which may give us a commission at no additional cost to you. As an Amazon Associate we earn from qualifying purchases.
New to SITS? Welcome!! Go read this to get started.
Today's featured blogger is The Articulate Ramblings of the Attorney-at-Mom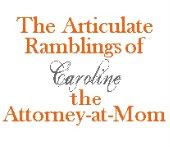 Heather: Uhm…okay, besides my own of course, she very well may have the cutest child on the planet. No. Seriously. That little girl makes me crazy with her cuteness.
Tiffany: Heather and I have often gushed over adorable toddlers. Especially if there are chubby rolls involved. The cheeks in particular are quite delicious.