This post may contain affiliate links which may give us a commission at no additional cost to you. As an Amazon Associate we earn from qualifying purchases.
New to SITS? Welcome!! Go read this to get started.
Today's featured blogger is When Did I Become My Mom?



She has this really great post about watching her precious boys playing.
Heather: When DID I become my mom? Good gravy…no matter how hard you try to fight it, it happens before you realize it. I love Nicole because she referenced Star Trek in one of her emails. Old school Star Trek.
Tiffany: She loves vintage Sesame Street. Who doesn't??! I love it when a blogger will post with an open heart and Nicole is so good at this.
We have a really great discussion in our Blog Frog community going on right now about feeling a little intimidated by other blogger's writing skills.
SITS Girls is coming to:
San Francisco, Philadelphia and Austin tickets are on sale now!
Want to get an email each time we post? Just click here.
And, as always, when you see this: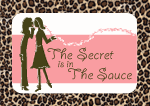 LEAVE A COMMENT.