New to SITS? Welcome!! Go read this to get started.
Happy St. Patrick's Day!!
Today's featured blogger is Sew Not My Day
Heather: I like to sew too, but mostly easy stuff. I'm always so impressed when people actually sew clothes. I've tried, but it doesn't work out so well for me.
Tiffany: My mom sews too and I love to watch her work.
SITS Girls Bloggy Boot Camp now has tickets available for the Phoenix and San Francisco events!
Want to subscribe to SITS and get an email each time we post? Just click here.
And, as always, when you see this: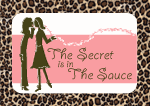 LEAVE A COMMENT.