This post may contain affiliate links which may give us a commission at no additional cost to you. As an Amazon Associate we earn from qualifying purchases.
Today our featured blogger is a great friend to us here at SITS- we've met her in person at Bloggy Boot Camp and we just adore her. Please give a warm and wonderful sits day welcome to Rachel of And Then- She Snapped.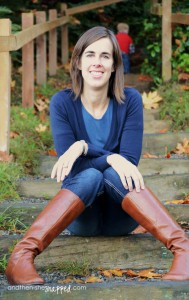 I'm Rachel, and I'm so gosh darn* excited that today's my SITS day!
My blog name is 'and then, she snapped' because a) I love to take pictures and b) I have three kids so sometimes I, you know, "snap," but that's rare of course, because my kids are perfect angels all the time.
Did I mention I'm not sarcastic? At all?
I love shoes, purses, and clearance. And taking pictures. And drinking Mike's hard lemonade on the driveway.
Come over and say hi. Introduce yourself. I can't wait to meet you. For reals.

*on my own blog I might use more "colorful" language, but not here and not on my SITS Day, because that would be rude.
These gems are worth a click:
My Very First Blog Post
Sometimes I pretend I'm a DIY Blogger
You will just love Rachel. Go spend some time over at her place and shower her in comment goodness!