This post may contain affiliate links which may give us a commission at no additional cost to you. As an Amazon Associate we earn from qualifying purchases.
Get a look at all the adventures and fun today's featured blogger, Breaking The Momma Mold, finds in her life.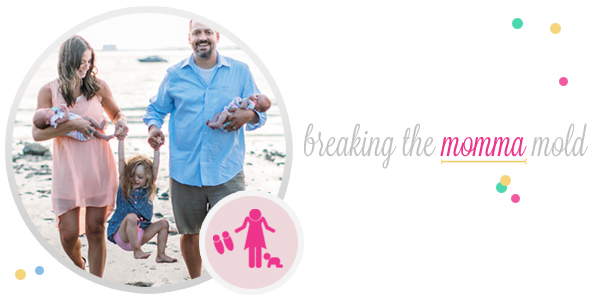 I am a mom of newly turned 3 month old identical twin girls and their 3 year old big sister. As I sit here and write this bio, I am wearing a really cute gym outfit and my hair is freshly blown out, not a piece out of place… all diapers clean, my toddler just finished her extremely nutritious breakfast and the house is spotless.

Now… if that were all true, I wouldn't have a blog.

I am actually sitting on a pile of laundry the size of Mount Washington and as I wipe this spit up off my shirt I wanted to share with you that I believe there is a myth that being a stay at home mom comes naturally to all moms. I (easily) break that myth and prove its can be a learned talent. My blog is to educate no-one, nothing I say or do is recommended and I have absolutely no doctor recommendations. I share trials and tribulations of grabbing the reigns of a new adventure and seeing where it takes us!
Favorite Posts:
Go visit Breaking The Momma Mold and share the comment love! Remember to comment below for roll call!