This post may contain affiliate links which may give us a commission at no additional cost to you. As an Amazon Associate we earn from qualifying purchases.
Like celebrity gossip? You're in for a treat, then. Today's featured blogger loves celebs. I can't help but click on her celeb tweets. Say hi to Amanda from It's Blogworthy!
Here's what Amanda wants you to know about her blog:
If you like reality TV, celebrity gossip and general ridiculousness, well friend, you've stumbled upon your dream come true. My slice of the internet is nothing if not full of variety. It's Blogworthy is inspired by the celebrity rags filled with news that isn't really news, but we can't get enough of it anyway — which is a lot like life. My featured players are my husband of five years, my sweet 14-month-old son, and all the celebrities we love to hate, who I write about every Friday on my Celebrity Roundup! My goal every day is to make at least one person laugh so hard someone has to ask them why they are laughing. Hope today, that person is you!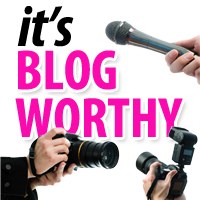 Can't-miss posts from Amanda include:
5 Things I've Learned from Project Runway is SO true if you're a fan of the show (I am!)
A super sweet birthday letter to her son in One Year.
Celebrity Roundup: Clean Slate is an awesome rundown of what's happening with your favorite trainwrecks.
Check in below, then scamper off to It's Blogworthy for more fun!