This post may contain affiliate links which may give us a commission at no additional cost to you. As an Amazon Associate we earn from qualifying purchases.
April's blog, Cup of Delight, is designed to delight, enlighten, and inspire. Read on to learn how this adorable blogger runs things in her corner of the internet…

What inspired the title of your blog?
I wanted to write a blog about things that delight me. One of my favorite places to relax and just be is at coffee shops and I love all things that come in a hot mug. I like the metaphor that little things that bring me joy are like a warm cup of tea or coffee, so that's how my blog title was created.
You write for 3 different blogs and are occupied with a handful of hobbies…how in the world do you have time to maintain it all?
I'm still learning how to balance my time and life well and truthfully, sometimes I'm not very good at it! My husband mostly maintains one of the blogs and we do not have kids yet, so when that happens, I will have to rearrange my life quite a bit. However, I try to apply the following 3 principles to living a balanced life: 1) Take one day at a time-if I don't do very well today then I will try again tomorrow 2) make at least a little bit of time-even if it's just 20 minutes-to do something each day that refreshes me 3)Incorporate my hobbies into life and relationships by doing them with people I love. Sometimes one of my blogs or some of my hobbies get neglected, and I just have to accept that it's ok and I can't do everything!

Can you share one of your favorite projects with us?
My masterpiece this year was a dollhouse I made for my niece. It was very time consuming and building the furniture was a labor of love! But, I thoroughly enjoyed doing it and seeing her excitement was worth every second I spent working on it. Plus, I love how it turned out and I like to think of it as a tribute my Grandpa Wade, who built me a dollhouse when I was little.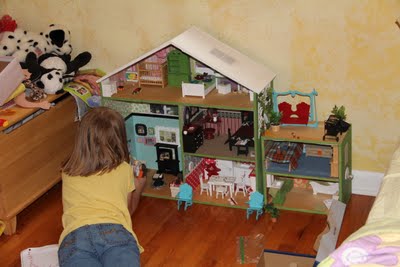 What do you do when you start feeling burned out?
Honestly,If it's really bad, I sometimes get under the covers, hide, and cry. I am blessed with a sweet and practical husband who speaks truth to me, talks me back to reality, and helps me to walk with Jesus. If it's small burn out, I take a break and concentrate on other things that excite me for a while. That's probably why I have too many hobbies!
In what ways have you benefited from blogging?
Blogging has been a great outlet of creativity for me and a break from the craziness of life. Because my blog is about things in which I delight, it reminds me to be thankful even when life is hard. I've also been challenged by other bloggers to try new creative endeavors that I might never have tried.
Potter Barn Inspired Fall Centerpiece:"I like to look through the PB catalog to get ideas, but I will never pay their prices!"
DIY Dollhouse:"This is my big masterpiece of the year-a dollhouse I made for my niece for her birthday."
Harry Potter Party:"My husband, being the good sport that he is, dressed up as Harry Potter. I dressed up as Hermione."