This post may contain affiliate links which may give us a commission at no additional cost to you. As an Amazon Associate we earn from qualifying purchases.
How fun would it be to manage a blog with your best friends? Three Haute Mamas is exactly that, a site run by women who have a history of friendship and that focuses on fashion and beauty, fun, and motherhood.
Your blog is unique because there are three of your girlfriends updating regularly, has it always been like that and who came up with this idea?
We are three friends with a combined 20 plus years in the fashion industry. We all left our careers to raise our combined 8(!) children, quickly became overwhelmed, quickly lost sight of who we are, quickly regained consciousness and quickly decided..Somethin's gotta change. Enter Three Haute Mamas. It was a perfect combination-Christina the Jimmy Choo wearing, Bloomingdales VIP, Kimberly, best friend to every local boutique owner within a 100 mile radius, and Kate the bargain-ista, if she wanted it, she'd get it. Just for 20% off.
How did the three of you meet?
Kimberly and Christina have been best friends since high school-Kim tells the story of the first day she met Christina, a new student who pulled up to school in a limo! That is Christina. Kim moved to the same town as Kate, and found that Kate's best friend just happened to be Kim's cousin. So obviously that made us besties too, and once Kate and Christina met, triple crown of bff's.
Do you all post whenever you like or do you have specific days and a schedule you stick to?
Don't tell anyone, but we read about all these horribly successful blogs write and their weekly/daily/monthly schedules, and we, well..we kind of call each other the week before and brainstorm and run with it. We don't "clock in", you feel like writing, write. Busy week? You're covered. It's like working with your best friends, but….it is working with your best friends! And if Kimberly hears of a local event she wants to promote, she writes about it. There is no asking permission. If Kate comes across a too good to be true sale at the Gap, then by all means, it'll be posted once she cashes out. Fly be the seat of our (designer) pants bloggers!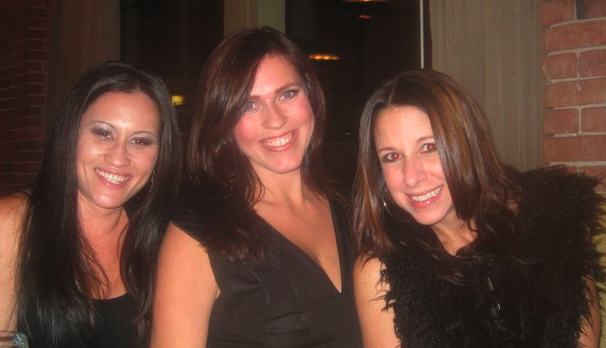 What can readers expect to find when visiting your blog for the first time?
I may have touched upon that (see above), but Kimberly hit the the nail on the head in our mission statement:
Three Haute Mamas is your go to access to local New England and national lifestlye trends. We are your go to mamas for products, services, stories, and opinions that will educate, entertain and inspire you to take control and create the life you always dreamed of.
We are three woman who learned through losing a bit of ourselves and finding "us" again that life is short, make it haute….
What advise can you give moms who don't have the time (or energy) to dress up everyday? Any easy solutions?
a. accessorize! Pile on that jewelry! No one will notice the baby spit up if you're wearing a fabulous, chunky necklace and a gorgeous pair of earrings (studs are sufficient mamas, but make 'em sparkle!).
b. hats! We admit..blow outs are time consuming, and ponytails can be so bleh.. What's a gal to do? Try on a hat! And don't limit yourself to your local team. Page boy, berets, straw, fedora, knitted caps, try them all on! You'd be surprised.
c. Makeup! We are not asking you to go all Ru-Paul here, but a touch of mascara and a little gloss never killed anyone. These days there are wonder products that make it even easier-eye lash extenstions, lip and cheek stains, bronzer/spf combos. Think multi-task mamas, and never ever forget your most important accessory..your smile.
There's plenty of fashion/beauty/lifestyle blogs that cater to high end fashion, but we are geared more towards those who are intimidated by the high end crowd, and looking for an alternative, a cheeky take on fashion. Admitted non trend setters, we are three friends who have three different opinions, personalities and budgets-something for everyone. There isn't a subject we won't address, nor a shoe we won't try on. The only hat we don't wear is a Yankees. Aside from that, I think you will truly enjoy our little daily dose of design.