This post may contain affiliate links which may give us a commission at no additional cost to you. As an Amazon Associate we earn from qualifying purchases.
New to SITS? Welcome!! Go read this to get started.
Without further ado, our featured blogger today is The Painted House
Tiffany
: Angela…where do I begin?  The artistic talent alone is ridiculous.  She is so funny and writes these posts that are incredibly real.  We both have a love/hate relationship with IKEA. And, Clayton, her husband, kicked Cancer's butt and sent him packing!  She's the kind of person that runs a contest based on good deeds… hello?  How cool is that?
Heather: Angela is such an inspiration. She's so talented and creative. I love her spirit. Not only are you going to wish you could fly her out to paint a mural on your wall, or cook you an amazing meal, but you're going to wish you could personally congratulate her and Clayton for his recent victory over cancer!!!! Yay!!!
He googled….WHAT? Advice for a Googler
That is one very happy UPS man. UPS man: You Can Thank Me Later
Who IS in that suit anyway? Dear Potty Training
And, as always, when you see this: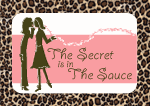 LEAVE A COMMENT