This post may contain affiliate links which may give us a commission at no additional cost to you. As an Amazon Associate we earn from qualifying purchases.
New to SITS? Welcome!! Go read this to get started.
Welcome to Tuesday!!
Don't forget about our Six Weeks of Summer contest going on right now. The details and this week's prize are mentioned here . We're only in week two, so there are many more prizes to come. Bring friends by to meet us and earn yourself some extra entries.
Guess what?  We went LIVE. AHHHHHH!!!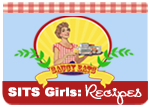 Go check it out for today's "Saucy Chef" and her awesome recipes.  Pick up the button while you're there. We'll feature a new chef and their recipes Monday through Friday.
Don't forget that we'd like to post our thanks to any service men and women who are important to our SITSta's on the Fourth of July. Just email us their name, rank and location so that we can list them in our special post for that day.
Get your commenting fingers ready! Our featured blogger for today is Roots and Wings…
Heather: Could this family be any cuter? No, I don't think they could. The dog, the baby, the dog WITH the baby…it's all too much.  
Tiffany:
One can never go wrong posting dogs and babies.  It's a win/win.  This gal's post about Starbucks had me laughing the whole way through.  Plus, that baby..oh.  Delicious.
A dingo ate her baby! First Derby Hat
What DO they put in that coffee?
You Know You're in Trouble When…
This is how snow makes a dog insane. Now THIS is Winter
And, as always, remember to comment when you see this on someone else's blog: