This post may contain affiliate links which may give us a commission at no additional cost to you. As an Amazon Associate we earn from qualifying purchases.
New to SITS? Welcome!! Go read this to get started.
Only two more days left in this week's big giveaway in our Six Weeks of Summer contest. We have four more weeks of fabulous prizes to go so there's plenty of time to enter and bring a friend. We'll announce this week's winner and unveil next week's fabulous prize on Saturday.
Have you gone to check out our new recipe site yet? We certainly have some saucy chefs out there! Go try a new dish and take the button while you're there. The code's in the sidebar. Free accessories. It just doesn't get any better than that.
Please remember that we'll have an extra special post on the Fourth of July thanking our service men and women for their dedication to preserving our freedom. Email us the name, rank and location of anyone you'd like to honor that day and we'll be sure to include them in that post.
Today's Featured Blogger is Shannon!  And, she is also featured today on Tip Junkie for today's contest!  Is this her lucky comment lovin' day or what?
Heather: Shannon is uber talented.  Mom, wife, blog designer extraordinaire, and, apparently, a crafting and cake decorating guru.  Watch out Martha, there is a new domestic queen in town!
Tiffany:  You already know she is a blog design genius, but just wait until you see the cakes. Oh.My.  Her personal blog is funny, thoughtful and incredibly real.  Shannon is a blogger I consider a friend.  And that is pretty cool.  Oh, and I totally blame Heather's kids too. Especially the one who calls herself "Fashion Girl."
Her crafty genius at work:  What to do with those old school papers.
She is just sayin' what we're all thinking. Tirade Tuesday
Seriously?  She made these cakes?!  Cakes for Kim
We'd like to give Melissa of Stretch Marks our sincerest apologies for not getting her feature up at midnight last night. If you didn't get a chance to go read her posts and comment, here is the link to her SITS feature. We're so sorry about that, Melissa. One of us fell asleep on the job. It wasn't Tiffany. I blame my children.
And, as always, when you see this: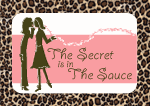 LEAVE A COMMENT!