This post may contain affiliate links which may give us a commission at no additional cost to you. As an Amazon Associate we earn from qualifying purchases.
SITS TWITTER PARTY TONIGHT AT 6PM PST/ 9PM EST! Here is the info:
New to SITS? Welcome!! Go read this to get started.
Today's featured blogger is Ichno Art
Heather: She has a widget in her sidebar that says there are only 40 days until Christmas. Excuse me while I go curl into the fetal position for a moment.
Tiffany: 40 days? Really? Are we sure? Could the widget be wrong? Someone, please hold me.
Want to subscribe to SITS and get an email each time we post? Just click here.
And, as always, when you see this: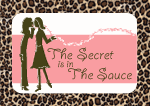 LEAVE A COMMENT.