This post may contain affiliate links which may give us a commission at no additional cost to you. As an Amazon Associate we earn from qualifying purchases.
Shannon is a mom who knows what kids want! Her food blog, Bento Lunch is a great inspiration for any parent looking to mix things up in their kids daily lunches. Read on and learn how she came up with this fun idea.

You talk about this on your about me page, but you can share what inspired you to create a food blog about Bento Lunches?
We started doing bento lunches the summer before Faith started kindergarten. She's never been a picky eater, thankfully, but she is definitely a slow eater. I was worried about her taking her time for lunch and then not finishing in the allotted time, so I started trying bentos for her while she was at day camp to see how they worked. Laying the food out small and cute seemed to help her be able to eat it when she needed to. It seemed that if I made a sandwich and cut it into a bunch of small one-bite flowers, she could eat it easily, but a big sandwich overwhelmed her. Cut up melon was much easier than an apple, and anything cute was, and still is, a big selling point.
What exactly is a bento lunch? Where does that term come from?
Bento is a Japanese term for a single serving portable lunch. Traditional bentos have a very specific ratio of foods and colors to them, usually rice, protein, veggies, and so on. They may involve fancy foods or containers, or just simple boxes and functional foods. With Americanized bento, I tend to lean on the cute ideas and fun containers as a start, but fill them with more typical foods for the kids.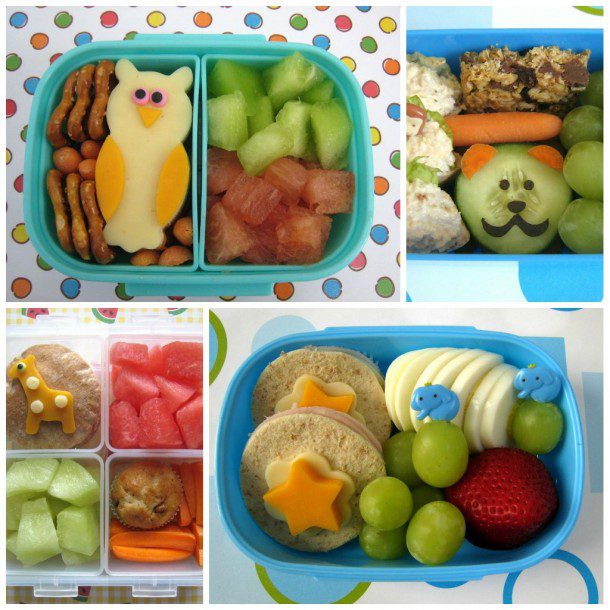 Do you ever run out of lunch ideas? What keeps you inspired?

All the time! There are a lot of lunches that don't make the blog because they just aren't all that interesting. When I'm running out of ideas, I try to ask the kids to help out with ideas of what they might like to eat. Sometimes they'll suggest something I haven't made in awhile and it will get me back on track. The Cut-the-Rope bento a few weeks back was because of the kids' obsession with that game. Of course, my son's latest favorite is Plants versus Zombies, but I don't think zombies are appetizing! Another favorite is looking through other blogs. On Wednesday, for the past year, I host a "What's for Lunch Wednesday" bento link up on my blog. There are some amazing blogs that link up, from more traditional style Japanese lunches to very Americanized ones, it's a great place for inspiration too.
I love that you have been so consistent about sticking to your niche, do you ever wish you could share personal family stories?
Sometimes! I've expanded a bit over the years, adding in a Kids Cook Monday sometimes and trying to share a few more of the recipes I use, even if they are really dinner leftovers. But I try to keep it as close to the theme as possible. Most readers coming to visit are looking for pretty specific things (often specific bento designs), so I want them to feel that they can find what they are looking for.
I do keep a second blog (http://nouveausoccermom.com) for family stories, crafting, non bento recipes, pretty much anything that doesn't fit into the bento blog. I actually started blogging in 2001 on LiveJournal, so my personal blog starts there, then migrated over to Blogger in 2006.
I'm also lucky enough to write for a great blog (MomTrends) that gives me a chance to do product reviews outside my niche, books reviews, recipe posts, and so on.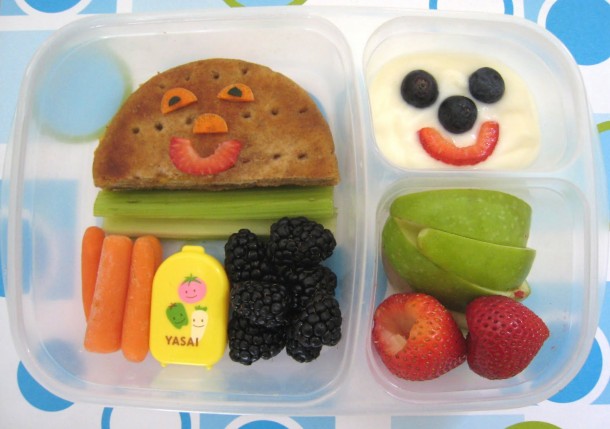 I'd love to try these bento lunches with my kids and could probably do this with a regular plate, but where do you get your cute containers?
We live in Dallas, so there is one great little Japanese store here where I've gotten most of my containers. There's a huge store in Houston that I am going to make a road trip to one of these days too, and California houses several of the 100Yen style stores. Other than that, online shopping seems to be key. I've gotten great containers on Ebay, Etsy, and Amazon. There are also a lot of American style containers which can be a great start for just a recyclable lunch (Easy Lunchboxes, Laptop Lunches, Lunchbots). I also use sandwich box containers from the grocery store for some bentos. They hold more than you would think they do, especially when you're arranging the food to fit in it tightly.
If you put together a favorite bento lunch for your kids…what would it consist of?
My favorite bento is probably the pirate lunch I created for Ben (in my blog header) and I got the chance to recreate it for Disney in honor of the Pirates of the Caribbean movie! It's a stuffed muffin (think corn muffin stuffed with goodies like chicken and veggies or ham and cheese), topped with a pirate made of cheese and cucumber! The character ones, in general, are a lot of fun and stretch my creativity. We've done Cut the Rope, Phineas and Ferb, Veggie Tales, among others. I have a list in my head of ones I want to try, some day!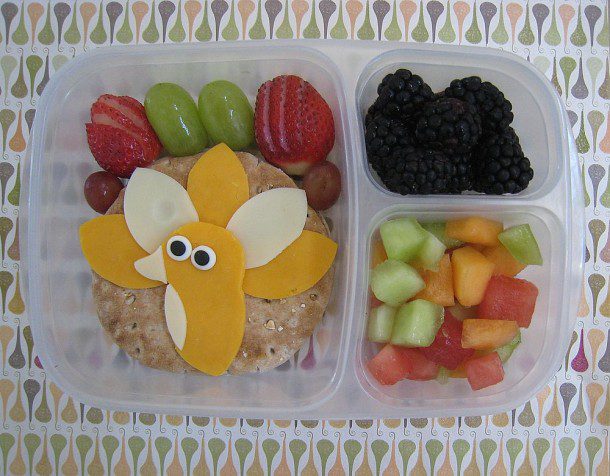 Other popular posts from Bento Lunch:
A Pirate Bento: My favorite pirate bento, and the one that caught the attention of Disney!
Faith's Rainbow Butterfly Bento: Rainbow fruits & butterflies, and discovering a way to make my own fruit roll ups.
Veggietales Bento: Veggie Tales were a lot of fun to make, although I spent most of the day singing