This post may contain affiliate links which may give us a commission at no additional cost to you. As an Amazon Associate we earn from qualifying purchases.
I am loving today's featured blogger: Paige from Recipe Paiges. It is totally normal to want to take her home with me so that I can munch on her amazing chocolate mint brownies and we can laugh over trash TV together, right? 😉
Let's get to know this food blog better…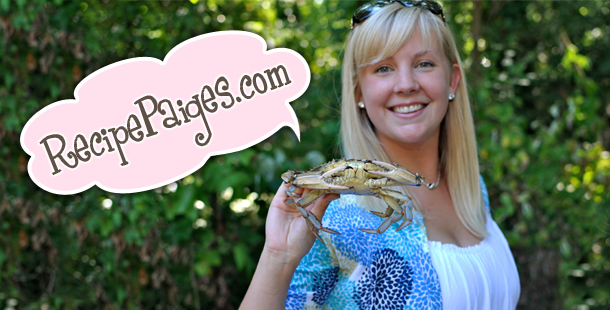 At what age did you first discover your passion for food and cooking?
I can't say that I can remember an exact age at which my passion for food was sparked. Growing up, both of my grandmothers were a huge part of my life and luckily both fantastic cooks! My Little Grandmother made the most delicious Parker House rolls. Whenever she would come over to babysit or for Easter, she would let my sister and I help make these famous rolls. She would also bring over sticky buns and let us watch Cops… so she was pretty much the best babysitter ever!   My Big Grandmother was an outstanding cook. Her chicken and dumplings could bring a tear to any eye. Seriously guys, it was comfort in a bowl!
I remember one summer when she came to stay with us and we made these Jello pinwheel creations that I would throw down to other neighbors from my deck. It made me super "cool" and I loved how happy feeding people made me. I think it was that summer that I realized how much I enjoyed getting my hands messy and creating something special for friends and family. There was another time when my mom was out of town for the weekend and I was in charge of making dinner for my dad.  Usually we would have some type of pasta, so I stuck with that. But then I decided I really wanted some garlic bread to go sop up the marinara sauce, so I stuck some plain old white bread in the toaster, put some butter on it and sprinkled on some garlic salt and served it to my dad. I swear on his life, I think the man ate 10 pieces that night! I never felt more proud. My dad passed away 5 years ago and when I think back to all of the happy times, even through all of the tears, that memory makes me want to cook and make others happy through my cooking, just like I had done for him, more than anything.
Who has been your biggest influence when it comes to cooking?
This is such a tough question to answer! I have been lucky enough to grow up with a family that has such talented cooks and a family that loves to eat. Both my mom and my sister are amazing cooks, I was blessed with the baking gene, though.  At the same time, as soon as my family got cable TV, all I would watch was the Food Network. I could always relate to Paula Deen because of  her love for some good southern cooking, but I also adored Giada De Laurentiis. Coincidentally, after seeing their Chefography shows on the Food Network, both chef's battled with shyness and anxiety, something that I feel has held me back from getting into the food industry myself. Both of their stories are so inspirational to me. I think that I have just been lucky enough to be surrounded by lots of family and friends who have been willing to be my guinea pigs when it comes to cooking, so I really owe it all to them since they have made such a huge impact in my life.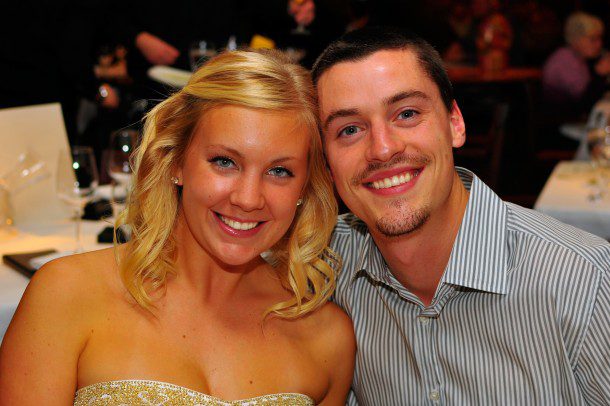 If you could trade places with one person on the Food Network, who would it be and why?
Another hard question! My first gut instinct is to say Guy Fieri because I think he has the most fun job ever! Who wouldn't want to go around the states and find the best hidden restaurant gems in America? Right? But like I said earlier, I can really relate to Giada De Laurentiis. I am so happy for her success and I absolutely adore all of her recipes! If I had to compare my personality to any one else on the Food Network, it would have to be her. She is bubbly, personal, and talented. Everything I hope to be as a chef one day.
What's your go to dish when it comes to making a meal special and memorable?
It depends on who I am serving. I like to put a lot of thought and care into a dish that I am serving. I try to take into consideration individual preferences while at the same time adding my own flair to a dish. I was born and raised in Maryland, so crab cakes are a huge deal for me! I took a cooking class with my husband a couple of years ago and we learned how to make the most amazing crab cake together. That was such a special memory for me and it is a dish that we can both proudly serve as Marylanders. It really is a spectacular dish…everyone asks for the recipe. I am still working on perfecting the remoulade sauce though!
More goodness from Recipe Paiges:
BBQ Chicken Quesadillas: Summer on a Plate!: As inspired by the bbq chicken pizza from California Pizza Kitchen
Irresistible Chocolate Mint Brownies: From her Auntie Joy, a family tradition and favorite
Hummingbird Cupcakes: Because they totally rock!