This post may contain affiliate links which may give us a commission at no additional cost to you. As an Amazon Associate we earn from qualifying purchases.
What better way to bond with your best friend than through a friendship blog!?! Tricia and Siana are the hilarious duo behind Two Girls On A Bench and together blog about all the things that make them smile…and think…and hungry. Read more about the life behind their blog and their unique friendship…

You have a great story behind your unique blog title. Will you share what inspired it?
We realized many years ago that whenever we were sitting on a bench, and it could be anywhere in the world, strange things always happened. Once, when were in Madrid, Spain, some young kids tried to rob us while we were drinking wine and sitting on a bench! Then an old man chased them down, brought us back our bags and scolded us for being stupid Americans… As a joke when we were working on a film project once we called it a Two Girls on a Bench Production and the name just stuck. Tricia drew a picture of us on the bench and that evolved into us taking pictures of ourselves on benches. We think of ourselves as observing life from a bench.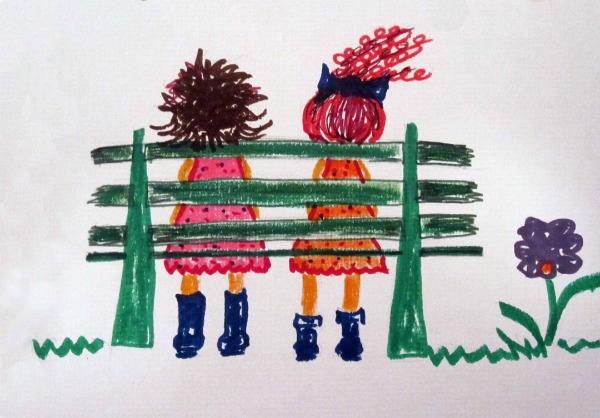 I love that the two of you blog together, how much time do you actually spend together?
We definitely have a Lucy & Ethel vibe. We were roommates in and after college and now live about a mile from each other. We were in each other's weddings, Siana was waiting on a bench outside Tricia's hospital room when she had her baby, people always ask us if we're sisters even though we don't think we look like each other, we're pretty much as BFF as it gets. We usually try to get together at least once a week to write, hang out and eat snacks.
What do you think makes your blog unique to a lot of other blogs out there?
We try to write about writing, but realize that as all good writers do, we procrastinate a lot. We think it's fun to share our procrastination with others because writing can be a very lonely and solitary activity and writers tend to get down on themselves for not accomplishing enough. Our blog celebrates the fact that we're often distracted from the work of writing and highlights what we do to distract ourselves. We don't claim to be experts or have great knowledge of what makes great writing, there are plenty of other people out there that do that well. We just want to share our antics with others and hopefully make them laugh and maybe share something we learned that week about writing, snacking or life in general. On accident this blog has become a lot about our friendship too – which is something we have learned from the comments people make. We've been writing together AND have been friends for 19 years – so it's very easy for us to forget how that comes through in our conversations.
You recently took a break from blogging, did that help you get your mojo back?
We needed to take a break because our personal lives were a little crazy. It was a good break and we hope we have our mojo back, we're at least talking about our script again. Of course we can't find our copies of it or remember what our most recent edits mean, but we'll figure it out.

What are your goals for your blog?
When we started this blog we had no idea that it would become such a big part of our lives. It was Siana's husbands idea – and at first we really resisted it. Just because everyone was doing it didn't mean we had to buy into the blog world. Why work on writing something other than our scripts? We couldn't even finish those! And who would want to read it? However, now we love the blog (and Twitter) and look forward to our posts. And in turn, we've made Twitter and blogger friends for life, it's a world we now embrace! We discovered that we are kind of funny – and not just to each other, our readers seem to like our humor, and enjoy joining in with our banter. It's become an exercise in diligence for us, even though a lot of the blog is about procrastination and distraction. It keeps us writing and keeps our "spark" alive. These days if you hang out with us on the bench you are in danger of becoming the topic of a future blog, especially if you bring us snacks. As for goals, well, for now we want to keep at it, eventually sell a script, and when someone says "what are you really like as writers" – we can point to the blog and say "that."
Mystery Lifetime Theatre 2010: "We start the flick, noodles in hand, and right away we are hooked."
How Dead Girls Look and Other Lists: "While working on a Crime/Horror/Killer/Mystery we are forced to make lists about things we've never listed about before."
Hot Baby – A Valley Birth Story: "The Bench is proud to announce the arrival of Ms. Elise!"