This post may contain affiliate links which may give us a commission at no additional cost to you. As an Amazon Associate we earn from qualifying purchases.
We made it to the weekend! Let's celebrate with one final featured blogger for the week.
Here is Missi from Havoc to Heaven.

I am the President and CEO of the Smith House (according to me). I am married to a very patient man and we have four children all within 3 1/2 years of each other – including a set of twins. Let's just say I log more miles on my car then a NY taxi driver. I am one crazy, busy lady. But – I know that the kids will be off to college soon enough so I relish the craziness for now!

I love to see things that were once havoc turn into heaven on earth. Hence my blog name, havoc-to-heaven! There is nothing more satisfying than a great "before and after"!

I am a self taught designer who has a passion for paint colors, fabrics, vintage accessories and cottage/farmhouse style.
Fun posts to read: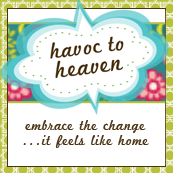 You know the drill:
Leave a comment on this post as part of your daily roll call responsibility.
Go visit Havoc to Heaven and share the comment love!
Have a good weekend. 🙂