This post may contain affiliate links which may give us a commission at no additional cost to you. As an Amazon Associate we earn from qualifying purchases.
Erin from Amundsen House of Chaos has had her fair share of hard times. From her husband's cancer diagnosis to her son Colby's stroke, read on to learn how she juggles it all and keeps the faith in her own House of Chaos.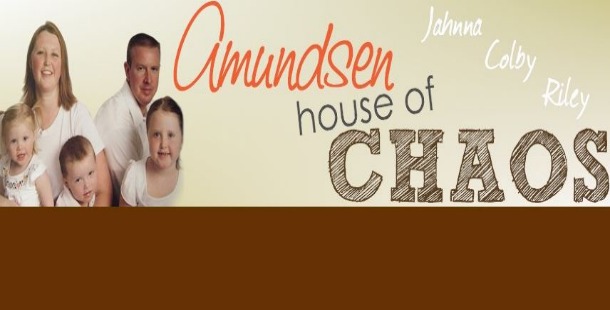 First of all, your family has experienced more pain and trauma these last few years than some families face in a lifetime. Can you share a bit of your story as well as link to some posts where the SITS readers might learn more?
It's true we have been through a lot. It all started in August of 2007 when our then two year old had a stroke from E.coli 0157 poisoning. Colby went from a healthy and happy little boy to one who relies on others for his very existence. He no longer walks, talks or eats on his own. He understands everything but he is trapped in a body that doesn't work how he wants it too. Since then our oldest daughter has been diagnosed as being bi-polar and a month ago we found out my husband has brain cancer. It has been an incredible journey of pain, healing, tears, laughter and lots of learning about what the brain and our family is capable of. These two links best explain what we have been through.
http://www.amundsenhouseofchaos.com/about/
http://www.amundsenhouseofchaos.com/colbys-story/
How has your the House of Chaos helped you through some of your experiences?
I started my blog as a way to keep family and friends updated on Colby's recovery. I was getting 20 phone calls a day asking if he was talking yet or walking. People didn't understand how bad his brain had been damaged and they just expected him to be better after he was home from the hospital. It was heartbreaking having to repeat myself every day. Since then it has become a record of our journey and a way for me to raise awareness about E.coli poisoning, childhood stroke, mood disorders and now brain cancer. I feel like there isn't a lot I'm able to do at this point in my life but if I can raise just a little bit of awareness about one of these things we've gone through then it will have all been worth it.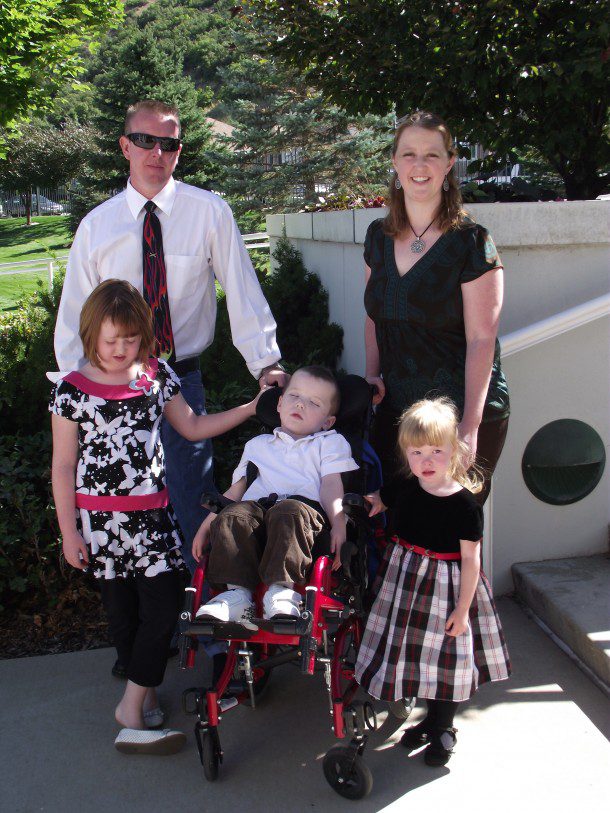 How are your daughters coping with the health issues your husband and your son have been facing?
Jahnna our oldest daughter struggled with Colby's stroke for awhile. We went to counseling a lot the first couple of years. She's come to accept it and is learning to see how she can help others through her brother. She's only 8 but she wants to be a research scientist and study how to help other child hood stroke survivors. Riley was only 3 months old when Colby had his stroke so she has never known a different life. To her he is no different than her sister. She's grown up in hospitals and doctor offices. It's not how I wanted her to learn empathy and to take care of other people but I wouldn't change it now. I will never have to worry that my kids will be uncomfortable around someone with a disability! 😉
On the rare occasion that you're given some quiet time to yourself, how do you prefer to spend it?
In silence! It's rarely quite at my house so I love listening to nothing at all. If I have an hour to myself I like to go for a walk. Colby sitting on my lap all day makes my legs fall asleep. It's nice to get outside and stretch my legs a little bit.
Many women would buckle under the stress you're experiencing? How do you manage to stay the course?
When Colby first came home after three months in the hospital I struggled. I would tell myself that I could make it through the next five minutes but then I was going to need some help. I remember sitting and staring at the clock with a screaming child on my lap, a 4 year old desperate for attention and a 6 month old just learning to crawl and get into things. After the 5 minutes were up I'd start over.
Over the years I've developed an amazing support network. People who won't let me sit at home and feel sorry for myself. We also rely a lot of faith and trust that things work out the way they are meant to happen. Truthfully the day to day stuff has gotten easier but I think I've just grown and adapted to it. The best piece of advice I received was from the woman of a near drowning child. She said you will cry every day for awhile. Then you will cry every other day.
Pretty soon it will stretch to 3 days, then 4 then a week. When you've finally reached the place where you cry once a month you know you've made it through the worst. You will always cry once a month. Let yourself and don't feel bad about it. You need to let it out. It took me almost a year to get to that point but I still do cry once a month. It reminds me how far I've come and really I don't think we do anything special. We live our lives one day at a time like most people. I try and raise our children to be the best they can be and hope that they learn to laugh through the hard times, it's what keeps you sane.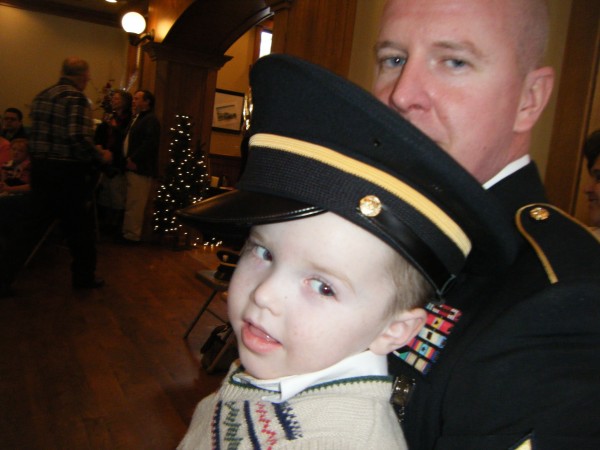 Other popular posts from Amundsen House of Chaos:
Happy 2nd Survivor Day: "In this 24 hour period two years ago our lives were irrevocable changed."
My Talk On Gratitude: "I wanted to record the talk that I just gave in church today. I was a wreck but I knew I was going to be before hand."
Lonely: "There is a certain amount of loneliness that comes from being the parent of a brain injured child."