This post may contain affiliate links which may give us a commission at no additional cost to you. As an Amazon Associate we earn from qualifying purchases.
New to SITS? Welcome!! Go read this to get started.
We're going to keep reminding you because it's THAT IMPORTANT! Come read SITS this Sunday to get the scoop on SITSmas.
Today's featured blogger is Under the Sheets…shhhh
Tiffany: From dogs to Disney, she covers it all with her funny perspective. And I love how she opens the topics to her readers. The comments are brilliant!!
Heather: I want to be a penny fairy too!! That's a fun idea! And, no, I don't think Disney ruined anything. There's a fairy princess diva in all of us. It's what makes the world interesting.
Want to subscribe to SITS and get an email each time we post? Just click here.
And, as always, when you see this: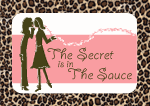 LEAVE A COMMENT.